I really like the tea service at Crawley House in London that is shown in the Christmas Special of Season 4. 
The china is either white or ivory with a pale green band around the upper third of the cups and I think it has a gold edge.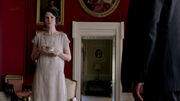 Is there any way to find out who made the china and if it is available for sale?