The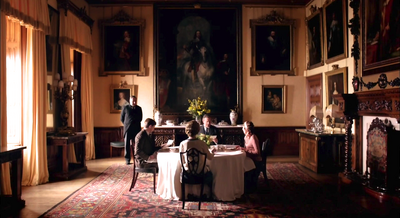 large and elegant Dining Room at Downton Abbey is visited by the family on three occasions during the course of each day at their country estate. Breakfast in the morning, where they are greeted by the warmth of the new toaster recommended by Mrs Hughes. The English custom of married ladies eating their breakfast in bed is a highly respected rule at Downton Abbey, the usual faces down for breakfast include Lord Grantham, Mr Tom Branson and Lady Edith. Luncheon is then later served after the changing of the family and the preparation of the food by Mrs Patmore and Daisy in the Kitchen. Later on in the evening Dinner is served after the once again changing of clothes by the Crawley's. Up to eight courses may be served, however in small portions. The room is familiar also to Mr Carson and the footmen. At dinner Carson leads his way around the table with a decanter from which he pours the wine. The footmen then take his lead serving portions of food. The family take as much from each plate of food as they wish. At a formal dinner the way the conversation turns at the table is instructed by Lady Grantham who may turn to her left or right and so too the the other members at the table. After the meal the ladies vacate to the Drawing Room while the men stay in the dining room smoking a cigar. The Dining Room is lavishly decorated with large paintings, extravagant candelabras and fine China and glasses. The table itself has many leaves which can be unfolded to extend the table in the case of a large party.
Community content is available under
CC-BY-SA
unless otherwise noted.