Were you looking for information on the Downton Abbey programme?
Robert: "You see a million bricks that may crumble, a thousand gutters and pipes that may block and leak, and stone that will crack in the frost"
Matthew: "But you don't."
Robert: "I see my life's work."
— Robert and Matthew Crawley talk about Downton Abbey.
Downton Abbey is an estate located in the outskirts of Downton in Yorkshire, England, UK, and is the home of the aristocratic and wealthy Crawley family.
Residents
Edit
Current Residents
Edit
The current residents of Downton Abbey are Robert Crawley, Earl of Grantham, his wife Cora Crawley, Countess of Grantham, their eldest daughter Mary Talbot, her husband Henry Talbot, Mary's son George Crawley, Robert and Cora's son-in-law Tom Branson, and Tom's daughter Sybbie Branson. Among the family's servants, only four currently live in the house itself; Beryl Patmore, Thomas Barrow, Andrew Parker, and Phyllis Baxter.
Former Residents
Edit
Among the former residents of Downton Abbey, they include, but are not limited to: Matthew Crawley, Mary's first husband, Sybil Branson, the youngest daughter of Robert and Cora and Tom's wife, Edith Pelham, the middle daughter of Robert and Cora, Marigold, Edith's illegitimate daughter, Rose Aldridge, Robert and Cora's first-cousin once-removed, and Violet Crawley, the Dowager Countess of Grantham, Robert's mother, Lady Rosamund Painswick, Robert's sister.
Known rooms and locations
Edit
For more information, see Rooms.
Downton Abbey is a very large and grand house with numerous rooms. Some of those that have appeared on screen are as follows: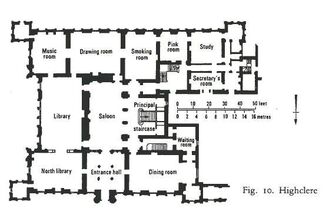 Main house
Edit
Outdoors and estate
Edit
Behind the scenes
Edit
Appearances
Edit
See also
Edit
Community content is available under
CC-BY-SA
unless otherwise noted.