Doctor Strange in The Multiverse o Madness - The Loop
Play Sound
Downton Abbey: A New Era[3] is the sequel film to the 2019 film was released on April 29, 2022 in the UK and will be released on May 20, 2022 in the US.
Simon Curtis directed the sequel, replacing previous director Michael Engler.[2]
Synopsis
The family and the servants are reunited to prepare a trip abroad and a marriage was featured in the film.[3] The film is set in 1928, "nine months after the first one"[4].
Plot Summary
Spoiler warning!
This section contains plot details about the film.
Click [Expand] to reveal full plot description... →
It's 1928 and the film starts with a joyous occasion - the wedding of Tom Branson and Lucy Smith in a beautiful ceremony. Everyone is there from the upstairs & downstairs and they are all thrilled for the pair. They enjoy a lovely celebration after the ceremony.
Violet calls her family for a meeting to announce something very exciting - she has inherited a villa in the French Riviera from a man unknown to the family. Everyone is very confused as to why Violet was chosen as the recipient of the villa, including Violet, but nonetheless she is pleased about it. She decides that Tom's daughter Sybie will inherit the villa after her passing.
The Crawley family receives a request from the British Lion Copmany- to use Downton Abbey as a filming location for their silent feature film. Robert Crawley does not seem pleased about the idea of a film crew and cast wandering around his home, but Mary reminds him that they could really use the money as the roof is leaking and there are a lot of costs to maintain their home. Robert leaves the decision in Mary's hands and she agrees to let them come.
Some members of the family decide to go to France to see the villa for themselves and uncover more of the mystery of why it was left to Violet in the first place. Edith and her partner, Cora and Robert, and Tom and Lucy all decide to go. They are greeted by a disgruntled woman Madame de Montmirail, who is not happy about her late husband leaving her villa to someone she doesn't know. Her son, however, is very welcoming to the family and urges his mother to be nice to their guests. They all stay in the villa together.
Meanwhile, at Downton, the silent film cast arrives in style. The female lead in silent film is Cockney diva, Myrna Dalgleish. Her male counterpart is the famous Guy Dexter. The servants are thrilled about their arrival, eager to serve on the famous stars to get closer to them. Mary seems pleased about the new excitement at Downton and she connects with the film's director, Jack Barber. Mary's husband is unfortunately away, much to her disappointment, so she focuses her energy on the film and the director. The cast integrate at Downton and have dinner with the family at night, while they shoot during the day.
Back in France, the family discover more and more about Violet's connection with the villa. The film reveals that Violet had been in love as a young woman with the Marquis de Montmirail and spent a romantic summer with him on the French Riviera. However, Violet went on to marry Robert's father Lord Grantham and while their marriage lacked the passion she had with Montmirail, they had a successful and fruitful marriage. Madame de Montmirail's son believes that Robert Crawley is indeed his half-brother, more to the Marquis de Montmirail. Robert is flustered and furious at the thought that his father might not be his actual father.
The family goes back to Downton from France and see how everything is going with the film. The film almost shut down because they received notice that there is no longer a demand for silent films- but rather "talkies". Mary suggests that they just dub over the silent film with words and Jack the director thinks it's a fantastic idea. The only issue is Myrna Dalgleish' Cockney accent. It doesn't match her persona in the film and they aren't sure what to do. Mary ends up recording her voice over Myrna's scenes instead and it's a great success. At first, Myrna is embarrassed and horrified at this- believing her career to be ended. She gets comforted by Daisy and Anna who tell her that her career can continue to thrive. She tries to work on her accent.
The film wraps up and Jack is thrilled with the result of his new "talkie". He tells Mary he has feelings for her but she tells him, slightly regrettably, that she is married and cannot do anything. He understands. Meanwhile, Guy Dexter took a liking to Thomas Barrow and invites him to come tour around America with him as he films. He implies that he will be there to wait on him and potentially more- even romance. Thomas accepts the offer and decides to leave Downton.
Cora has a health scare and believes that she might be dying. However, she gets another opinion from a doctor and finds out that she isn't dying much to the relief of her family.
Lucy reveals to Tom that she is pregnant with a child and they are thrilled.
At the end of the film, after getting her affairs in order, the Dowager receives visits from her beloved family and servants at the end of the film as she says her goodbyes. She passes away peacefully in bed. The film ends with the entire cast of both the upstairs and downstairs of Downton following the hearse carrying her coffin to her funeral.
Production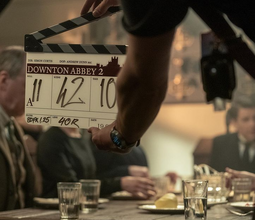 Max Brown did not return in the film as Richard Ellis. The entire Downton cast are back for Downton Abbey: A New Era, with Hugh Dancy, Laura Haddock, Nathalie Baye and Dominic West joining.[3]
The movie was set for a Christmas 2021 release,[5][6] but was moved to Spring 2022,[7] presumably for competitive scheduling reasons. In late January 2022, the release dates were pushed further into Spring.[1]
Cast
( ! )
This section needs citations, references, and/or sources.
Principal cast
Upstairs
Downstairs
New
Supporting cast
Media
Gallery
Videos
Trailers
Teasers (Focus Features)
Teasers (Universal Pictures UK)
Behind the Lens (Universal Pictures UK)
References
↑ 1.0 1.1 1.2 DEADLINE - 'Downton Abbey: A New Era' Release Date Shifts To Early Summer By Anthony D'Alessandro January 26, 2022 9:00am
↑ 2.0 2.1 CNN - 'Downton Abbey' film sequel coming for Christmas By Lisa Respers France, Updated 9:49 AM ET, Mon April 19, 2021
↑ 3.0 3.1 3.2 DEADLINE - 'Downton Abbey' Sequel Gets A Title And Teaser Footage At CinemaCon By Nancy Tartaglione, Anthony D'Alessandro August 25, 2021 6:21pm
↑ British Period Dramas - Dominic West and Hugh Dancy's exciting roles in 'Downton Abbey' sequel revealed 19th January 2022: direct quote from Elizabeth McGovern: "You see this clash of cultures when Hollywood meets Downton. A New Era is set in 1928, nine months after the first one, when 'talkies', as opposed to silent films, were just starting to be made and they've got all these Hollywood movie stars and the director of a talking movie staying at the Abbey."
↑ BBC - Downton Abbey: Film sequel set for Christmas release 19 April 2021
↑ The Guardian UK - Downton Abbey film sequel set for Christmas 2021 release by Catherine Shoard Mon 19 Apr 2021 10.38 EDT
↑ Variety - 'Downton Abbey 2' Pushed From Holiday Release to March 2022 Debut by Brent Lang Jul 2, 2021 11:32am PT
See also
External links
Focus Features
Downton Abbey: A New Era
Other info
News