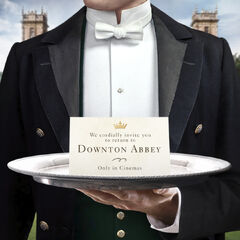 Downton Abbey, the movie, is a film written by Julian Fellowes and directed by Michael Engler. The film was produced by Carnival Film & Television and Focus Features. It is expected to be released in autumn 2019.
The movie was announced to have a September 13, 2019 international release and a September 20, 2019 release in North America.[1]
Development history
After over a year of speculation, an untitled Downton Abbey-based movie was confirmed on July 13, 2018 by Focus Features.[2][3] There was first mention of the movie by president of NBC Universal International Studios, Michael Edelstein, on June 21, 2017 at a red carpet event in Singapore called Downton Abbey: The Exhibition.[4] Julian Fellowes confirmed earlier in mid June 2017 he has been working on a script.[5]
On October 2, 2017, the Downton Abbey Facebook account posted a teaser that could be related to a movie announcement,[6] but it turned out to be an announcement for Downton Abbey: The Exhibition in New York City starting November 18, 2017.[7]
At a press event in London on October 3, 2017, Julian Fellowes did not inspire confidence when he said he was "completely out of the loop" on the progress of a film.[8]
At the end of 2017, an interview with Phyllis Logan (Mrs. Hughes), suggested the wheels were turning for a movie, since cast members were asked to clear their calendars for some part of 2018 and an updated script was to be distributed.[9] Also, Highclere Castle is scheduled to be closed from May 30 to July 7, 2018[10] which some are speculating means it has been reserved for filming.
Dame Maggie Smith, Michelle Dockery, and Hugh Bonneville have all been confirmed to appear in the film. [11] The whole main cast (of characters that are still alive) have now been confirmed to be returning, except for Lily James as Rose Aldridge, as her character has moved to New York.[12]
Filming finished on November 30, 2018 after fifty days of filming.[13]
Cast and crew
Nouveaux membres de la distribution
Company credits
Plot
Media
Images
Misc scenes

Not in any particular order...
Character posters
Videos
Teaser
References
External links
News
Secondary news
Old news