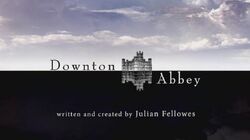 Downton Abbey is a period drama television series set and filmed in Britain and created and principally written by Julian Fellowes. It features an ensemble cast and premièred in the UK on ITV on the 26th September 2010 and in the USA on PBS on the 9th January 2011. It is co-produced by British production company Carnival Films and the American Masterpiece. The executive producers are Julian Fellowes, Gareth Neame and Rebecca Eaton.
The series is set during the post-Edwardian era (after Edward VII's death) and depicts how major historical events such as the sinking of the RMS Titanic, the First World War and the Spanish influenza pandemic affect the fictional estate of Downton Abbey in Yorkshire.
Reception of the programme was predominantly positive; ratings were extremely high for what is usually considered a 'genre' show, and the first series picked up a number of awards and nominations after its initial run. It was also nominated for the Audience Award Bafta in 2011 but lost to reality show, The Only Way is Essex. It has subsequently become the most successful British costume drama since the 1981 television serial version of Brideshead Revisited, and in 2011 it entered the Guinness Book of World Records as the 'most critically acclaimed television show' for the year, becoming the first British show to win the award. It has become a worldwide phenomenon sold to 220 territories worldwide, with 120 million viewers. [1][2]
On the 3rd November 2011, ITV confirmed that a third series had been commissioned and would air from September 2012. Series three premièred in the UK on the 16th September, 2012, and premièred in the US on the 6th January, 2013. The consolidated ratings averaged 11.9 million viewers for series three which equates to a 40% share of the available audience. This makes Downton Abbey one of the most popular dramas in recent memory. The final episode of series three also achieved over 12 million viewers.[1]
Series four premiered in the UK in the autumn of 2013.[3] Series five premiered in the UK very close to the same time as Series four, but in 2014. The final Series six[4] premiered on 20 September 2015.
Overview
The series is set in the fictional Downton Abbey, a Yorkshire country house of the Earl and Countess of Grantham, and follows the lives of the aristocratic Crawley family and their servants early in the reign of George V. The first series spans the two years prior to the Great War, commencing with news of the sinking of the RMS Titanic, an event that sets the story in motion.
Highclere Castle in Hampshire was used for exterior shots of Downton Abbey as well as for some of the interior filming, with the servants' living areas constructed and filmed at Ealing Studios.
The village of Bampton in Oxfordshire was used for filming the outdoor scenes, most notably St. Mary's Church and the village library, which serves as the entrance to the cottage hospital. The North Yorkshire towns of Malton, Easingwold, Kirkby, Kirkbymoorside, Middlesbrough, Ripon and Richmond have also been mentioned by characters in the series.
The first series cost an estimated £1 million per episode, and is the most successful British period drama since Brideshead Revisited, with British ratings exceeding 10 million viewers. The series was also well received in the United States, averaging over 6 million viewers per episode.
Series Overview
Cast and Characters
Main article: Cast
Main Cast
Upstairs
Downstairs
Recurring
Upstairs
Downstairs
Merchandise
Books
DVDs and Blu-Rays
Other
Media
Images
Note: This is a generic section  stub. Expand it by clicking Edit to right of the section title.
Videos
References
↑ 1.0 1.1 ITV commissions a fourth series of Downton Abbey, ITV Press Centre, 12th December, 2012.
↑ Feared Downton lost the plot with that car crash? Lady Mary's grief (and the men chasing her) will have you spellbound again, Christopher Stevens, Daily Mail, 14th August, 2013.
↑ ITV commissions a fourth series of Downton Abbey, ITV Press Center, 12th December, 2012.
↑ M&S to launch Downton Abbey beauty collection, Cheshire Today, 5th August, 2013.
See also
External links
Official websites

ITV.com
Downton Abbey

PBS.org
Downton Abbey

WGBH.org
Masterpiece: Downton Abbey - Special Features

Twitter.com
@DowntonAbbey
(Verified Twitter Account)

Facebook
Downton Abbey
Unofficial and Fansites websites
News

TheWrap.com
Michelle Dockery Teases 'Downton Abbey' Movie Spinoff: 'It May Not Be Over Yet'
Debbie Emery August 15, 2016 @ 9:21 PM

DailyMail.co.uk
Downton Abbey's Allen Leech reveals there are 'possible negotiations' over widely-discussed movie as he joins Joanne Froggatt at The Contenders Q&A
By Ciara Farmer and Louise Saunders; Published: 10:08 EST, 11 April 2016; Updated: 15:37 EST, 12 April 2016

Metro.co.uk
Dame Maggie Smith on end of Downton Abbey: 'I can't see how it could go on'
Daniella Graham Sunday 1 Mar 2015 1:39 pm

Guardian.co.uk
Downton Abbey wins Golden Globe
by Press Association Guardian.co.uk, Monday 16 January 2012 02.44 EST

DigitalSpy.com
Maggie Smith wins Golden Globe for 'Downton Abbey' role
By Sarah Luoma Digital Spy Monday, Jan 14 2013, 1:10am EST

TheWrap.com
'Downton Abbey' Producer 'Contemplating' Movie After Series Ends
L.A. Ross March 26, 2015 @ 10:07 AM
Community content is available under
CC-BY-SA
unless otherwise noted.