Anna: "M'lady, is something the matter?"
Mary: "I don't want to alarm anyone, but would you leave the cases here and take me straight to the hospital?"
Chauffer: "Yes, m'lady."
The Downton railway station is the station servicing the village of Downton and presumably the closest station to Downton Abbey. It would have been on the North Eastern Railway (NER[1]) until 1923, when it was absorbed into the London and North Eastern Railway (LNER[2]).
It has served as the backdrop for a number of significant scenes throughout the run of Downton abbey, including Mary seeing Matthew off to war, a very pregnant Mary needing to go straight to hospital upon returning from Duneagle Castle, and Mr. Carson reconciling with Charles Grigg before the latter goes off to Ireland.
Mary meets Mr. Bates getting off the train, not realizing they were on the same train. Later, Mary sees Matthew off to return to the front and gives him her good luck charm, a stuffed toy.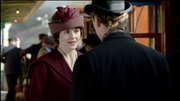 Richard Carlisle
proposes to Mary, saying that he thinks very highly of her and that they would work well together. He goes on to say that we are strong and sharp, where Mary says his proposal is improving by leaps and bounds.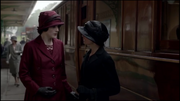 The family, with their respective lady's maids and valets head off to Duneagle Castle in Scottland, leaving
Tom Branson
behind.
Anna
mentions that it is her first time because they did not go the previous year due to the death of
Sybil
and that she was not a proper lady's maid prior to that.
Later, Mary returns early with Anna and upon arrival at the station requests to be brought straight to hospital.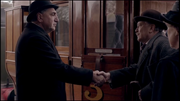 Mr. Carson shows up at the station just in time to see his old partner off to Ireland. Mr. Grigg informs Mr. Carson that
Alice
died five years earlier, but that she always thought Carson was the better man. Carson and Grigg shake on it and part as friends.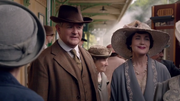 Violet meets Rosamund at the opening of episode 5.07 to discuss the disappearance of Edith.
In the 2014 Christmas Special Rose's father-in-law Lord Sinderby has rented Brancaster Castle in Northumberland and invited the Crawleys to a grouse-shooting party. Robert, Cora, Mary and Barrow are seen boarding, sent off by Violet, Isobel and Mr. Carson.
Appearances
Edit
Behind the Scenes
Edit
Among the rolling stock appearing is the Wainwright no. 592 locomotive[4] built in 1902, and the Stroudley no. 661 first class coach built in 1880.
External links
Edit
References
Edit
Community content is available under
CC-BY-SA
unless otherwise noted.