Line 11:
Line 11:
 

| next = [[Episode 2.04]]

 

| next = [[Episode 2.04]]

 

}}

 

}}

−

Downton is being prepared as a convalescent home for wounded officers and Isobel Crawley is driving Cora mad. O'Brien is eager to ensure that Cora is recognised as the boss of Downton and suggests she needs an ally in the hospital– Thomas. A move that doesn't go down well below stairs, especially with Carson.

+

Downton is being prepared as a convalescent home for wounded officers and Isobel Crawley is driving Cora mad. O'Brien is eager to ensure that Cora is recognised as the boss of Downton and suggests she needs an ally in the Thomas move that doesn't go down well below stairs, especially with Carson.

 
 
−

<p style="mso-pagination:none;mso-layout-grid-align:none; text-autospace:none">As the first convalescent group arrives, so does Matthew, who is home on leave. Matthew suggests he bring his General, Sir Herbert Strutt to inspect the new convalescent home.</p>

+

<p style="mso-pagination:none;mso-layout-grid-align:none; text-autospace:none">As the first convalescent group arrives, so does Matthew, who is home on leave. Matthew suggests he bring his General, Sir Herbert Strutt to inspect the new convalescent home.</p>

 
 
−

<p style="mso-pagination:none;mso-layout-grid-align:none; text-autospace:none">Elsewhere, new housemaid Ethel flirts with a young officer, Major Bryant, incurring the wrath of Mrs Hughes in the process.
Violet is certain that Mary is still in love with Matthew and is determined to undo Matthew's engagement. Together with Rosamund she discovers that Lavinia is hiding a secret from Matthew and is somehow acquainted with Sir Richard Carlisle which she is determined to get to the bottom of.</p>

+

<p style="mso-pagination:none;mso-layout-grid-align:none; text-autospace:none">Elsewhere, new housemaid Ethel flirts with a young officer, Major Bryant, incurring the wrath of Mrs Hughes in the process. is certain that Mary is still in love with Matthew and is determined to undo Matthew's engagement. Together with Rosamund she discovers that Lavinia is hiding a secret from Matthew and is somehow acquainted with Sir Richard Carlisle which she is determined to get to the bottom of.</p>

 
 
−

<p style="mso-pagination:none;mso-layout-grid-align:none; text-autospace:none">In the village Anna believes she sees Bates. With Lady Mary's help she discovers Bates is working in a pub and surprises him. Ever-proud Bates refuses Anna's pleas to return to Downton but reveals that he is close to being free from Vera forever.</p>

+

<p style="mso-pagination:none;mso-layout-grid-align:none; text-autospace:none">In the village Anna believes she sees Bates. With Lady Mary's help she discovers Bates is working in a pub and surprises him. Ever-proud Bates refuses Anna's pleas to return to Downton but reveals that he is close to being free from Vera forever.</p>

 

[[File:Thomas_203.jpg|thumb|left|Thomas Barrow from episode 2.03]]

 

[[File:Thomas_203.jpg|thumb|left|Thomas Barrow from episode 2.03]]

 
 
−

<p style="mso-pagination:none;mso-layout-grid-align:none; text-autospace:none">Below stairs William visits Daisy the night before he heads off to active duty. He has a question to ask but Daisy is afraid to respond. A random remark causes Mrs Patmore untold heartache and Branson is wrong-footed upon discovering he is discharged from active service thwarting his plans to be a conscientious objector.</p>

+

<p style="mso-pagination:none;mso-layout-grid-align:none; text-autospace:none">Below stairs William visits Daisy the night before he heads off to active duty. He has a question to ask but Daisy is afraid to respond. A random remark causes Mrs Patmore untold heartache and Branson is wrong-footed upon discovering he is discharged from active service thwarting his plans to be a conscientious objector.</p>

 
 
−

<p style="mso-pagination:none;mso-layout-grid-align:none; text-autospace:none">However, he doesn't give up that easily and plots to disrupt the dinner that Lord Grantham is giving in honour of General Strutt. He has volunteered to help serve the dinner, but before doing so he writes a note to Lady Sybil, asking her to forgive him for what he is going to do. The note is discovered by Anna, who informs Mrs Hughes and Carson of Branson's intentions. Carson ends up stopping Branson from pouring a pot of slop over the general's head, and William serves dinner as Branson's replacement, one more time before he goes to war.</p>

+

<p style="mso-pagination:none;mso-layout-grid-align:none; text-autospace:none">However, he doesn't give up that easily and plots to disrupt the dinner that Lord Grantham is giving in honour of General Strutt. He has volunteered to help serve the dinner, but before doing so he writes a note to Lady Sybil, asking her to forgive him for what he is going to do. The note is discovered by Anna, who informs Mrs Hughes and Carson of Branson's intentions. Carson ends up stopping Branson from pouring a pot of slop over the general's head, and William serves dinner as Branson's replacement, one more time before he goes to war.</p>

 
 
 

==Cast List==

 

==Cast List==
---
Revision as of 03:34, 17 March 2018
Downton is being prepared as a convalescent home for wounded officers and Isobel Crawley is driving Cora mad. O'Brien is eager to ensure that Cora is recognised as the boss of Downton and suggests she needs an ally in the hospital - Thomas, a move that doesn't go down well below stairs, especially with Mr Carson.
As the first convalescent group arrives, so does Matthew, who is home on leave. Matthew suggests he bring his General, Sir Herbert Strutt, to inspect the new convalescent home.
Elsewhere, new housemaid Ethel flirts with a young officer, Major Bryant, incurring the wrath of Mrs Hughes in the process. Violet is certain that Mary is still in love with Matthew and is determined to undo Matthew's engagement. Together with Rosamund she discovers that Lavinia is hiding a secret from Matthew and is somehow acquainted with Sir Richard Carlisle, which she is determined to get to the bottom of.
In the village, Anna believes she sees Bates. With Lady Mary's help, she discovers Bates is working in a pub and surprises him. Ever-proud Bates refuses Anna's pleas to return to Downton, but reveals that he is close to being free from Vera forever.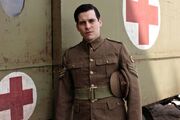 Below stairs, William visits Daisy the night before he heads off to active duty. He has a question to ask but Daisy is afraid to respond. A random remark causes Mrs Patmore untold heartache, and Branson is wrong-footed upon discovering he is discharged from active service thwarting his plans to be a conscientious objector.
However, he doesn't give up that easily and plots to disrupt the dinner that Lord Grantham is giving in honour of General Strutt. He has volunteered to help serve the dinner, but before doing so he writes a note to Lady Sybil, asking her to forgive him for what he is going to do. The note is discovered by Anna, who informs Mrs Hughes and Carson of Branson's intentions. Carson ends up stopping Branson from pouring a pot of slop over the general's head, and William serves dinner as Branson's replacement, one more time before he goes to war.
Cast List
External links