George Crawley (b. September 1921) is the only child, son and heir of the late Matthew Crawley and Lady Mary Crawley. He is the second grandchild and first grandson of Robert and Cora Crawley, the first and only grandson of Isobel Crawley, great-grandson of Violet Crawley, nephew of Lady Edith, the late Lady Sybil, and Tom Branson, and the cousin of Sybil Branson.
Biography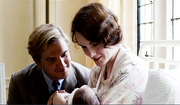 Lady Mary was vacationing with the Crawleys at Duneagle, the Scottish estate of her cousins the MacClare's, when she began to feel that she was not well. She came back to Downton early the next morning, realizing when she got off of the train that she was in labor. George was born in September 1921, a month early. His grandmother Isobel Crawley was there, but his father Matthew Crawley arrived later. When Matthew goes to Downton to relay the news to the rest of the Crawley's and return with them to the hospital, he is run off the road by a truck that he neglected to see, as he was still overwhelmed by the events of the day. George's father was killed in this car accident on the same day as George was born.
He is heir presumptive to his maternal grandfather's title and estate, although his claim comes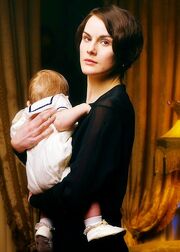 through his father's line not his mother's. His paternal great-great-great grandfather being a younger son of the 3rd Earl of Grantham. When he inherits, Mary will be the dowager countess.
Appearances