Grantham House is the London residence of Crawley family located in St. James's Square.
In the 1920s, Robert Crawley lost most of the family wealth on a investment which sadly went wrong, meaning that he and his family may have needed to sell it. However, it is possible, when Robert's heir and son-in-law Matthew recieved a large fortune, the family didn't have to sell it.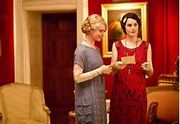 The family stays there in 1923 for the London summer season, which includes
Rose MacClare
's debunate ball.
Appearances
2013 Christmas Special
Notes
 Basildon Park in Berkshire was used for the house's interior scenes.1
References
http://www.radiotimes.com/news/2013-12-08/downton-abbey-whats-going-to-happen-in-the-christmas-special