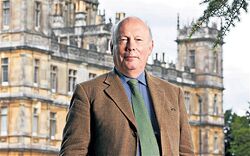 Julian Alexander Kitchener-Fellowes, Baron Fellowes of West Stafford (born 17th August, 1949; Cairo, Egypt) is the creator, primary writer and one of the executive producers of Downton Abbey.
Career summary
Edit
Fellowes is known professionally simply as Julian Fellowes and is an English actor, novelist, film director and screenwriter as well as a Conservative member of the House of Lords.
Fellowes wrote the script for the films Gosford Park, The Young Victoria and also penned the best selling novel Snobs. As an actor he is perhaps best known for his roles in Monarch of the Glen and Our Friends in the North.
Fellowes favourite scene from Downton Abbey is the death of Lady Sybil in childbirth. He is proud of the scene saying, "the actual death scene I thought was really terrific. It made me cry, and I wrote it!"[1]
See also
Edit
References
Edit
External links
Edit
News

StraitsTimes.com
Downton Abbey creator says not easy coming up with storyline
Yip Wai Yee Jul 3, 2017, 5:00 am SGT

TheGuardian.com
Julian Fellowes webchat – your questions answered on The Wind in the Willows, Downton Abbey, winning an Oscar – and Nando's
Tuesday 13 June 2017 09.17 EDT

Toronto Star
Julian Fellowes' life after Downton Abbey
By: Ryan Porter, Wed Jan 27 2016