King's Cross is an actual railway station which services trains from Yorkshire in the Downton Abbey series, and located in the Northern edge of central London. Michael Gregson meets Edith Crawley upon her arrival there. Edith offers a ride to Michael, but he says he is going the opposite direction. Edith then heads off to the house of Rosamund Painswick, driven by Rosamund's chauffeur.

Appearances and Mentions
Edit
Behind the Scenes
Edit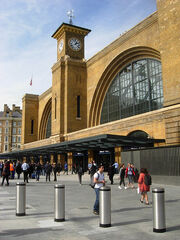 King's Cross railway station is a major London railway terminus, opened in 1852. It is on the northern edge of central London, at the junction of Euston Road and York Way, in the London Borough of Camden on the boundary with the London Borough of Islington. It is one of 17 UK stations managed by Network Rail.
King's Cross station is the southern terminus of the East Coast Main Line, one of Britain's major railway backbones. Some of its most important long-distance destinations are Leeds, Newcastle and Edinburgh.
The actual station pictured in episode 4.01 is in fact neighboring St Pancras Railway Station, standing in for King's Cross due to its Victorian architecture. This is not without precedent, as the movie "Harry Potter and the Chamber of Secrets" also had St Pancras stand in for King's Cross.
It is presumed that King's Cross is the intended station as it has been mentioned several times in context with taking the train to London, while St Pancras has never been mentioned. St. Pancras does in fact service trains to and from Yorkshire.
While filming inside the station, Locations Manager Mark Ellis had to be careful to ensure no lights shone on the tracks to dazzle the train drivers. The noise was also a constraint: watch the scene again and one will notice that Lady Edith says very little to Michael Gregson until they leave the platform.



External links
Edit
Community content is available under
CC-BY-SA
unless otherwise noted.