The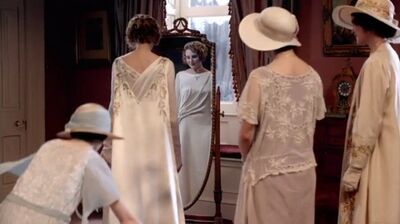 bedroom of Lady Edith is furnished with a double bed and chairs covered in a peach coloured fabric to match the colour of the room's walls. As well as this two side tables sit beside the bed that are decorated carefully with bedside lamps, picture frames and the odd trinket box. In February 1924 Lady Edith's Bedroom is the scene of a raging fire that treated to continue to spread through the house. Previously however in 1920 we see a happier occasion take place in the room as Lady Edith Crawley accompanied by her two sisters and mother as well maid Anna Bates prepares for her wedding to Sir Anthony Strallen later that day. However the day does not end happily and we witness Lady Edith run to her room after being ditched at the alter. After recovering from her ordeal the room is then where Edith spends much of her time pining for her late lover Mr Michael Gregson. During this turbulent time a book found by Mrs Hughes owned by Mr Gregson is handed to Edith which she consequently throws upon her fire which then in turn engulfs the bedroom after falling to the carpet. The room is then seen the next day while being cleared of its burnt out contents by Mrs Hughes and Anna.
Community content is available under
CC-BY-SA
unless otherwise noted.