Laura Edmunds is a new, minor recurring character in the sixth series. She assists Lady Edith with her publishing company as co-editor and good friend.
Biography
Edit
Laura arrived at The Sketch for a job interview with Edith, who was looking for a woman editor for her magazine company. Some months later, she asked Edith about the new designer dresses some customers have distributed. She is invited by Edith to come and watch the racing cars and to meet her employer's family. She is immediately accepted by the family. As are all the others, she is shocked when one of the competitors is killed in a sudden crash. At dinner, she says that when people talk of racing it seems like fun, but that the harsh reality behind it was sudden death.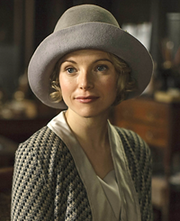 Lady Edith talks about her sudden break up with Bertie Pelham, with which Laura sympathizes and admits that she liked Bertie Pelham, too, although like Tom she's not convinced things are over between Edith and Bertie. She also says that Mary hasn't been helpful, to which Edith explains there is a sort of lifelong struggle between her and her sister.
The two then discuss the mysterious writer of the magazine's successful agony aunt column, Cassandra Jones, with whom they are about to meet in person at the magazine office to discuss 'more money'. Laura is curious about the writer, who they've never actually seen, and has arranged for her to come to the office for a meeting. They agree to use the code word 'bananas' if either of them believes the woman they are meeting is the actual writer and not someone sent in her place. Edith is later stunned to see that 'Cassandra Jones' turns out to be Septimus Spratt, Edith's grandmother Violet's crusty butler! Upon seeing him in her office, both Edith and Laura exclaim 'bananas!', to Spratt's befuddlement.
Laura is invited to Lady Edith's wedding to Bertie Pelham, where she catches the wedding bouquet. She also become friendly with Tom Branson.
She was born in the same year as Lady Edith, 1892.
She smokes cigarettes, which was very daring for women at the time.
Appearances
Edit
Community content is available under
CC-BY-SA
unless otherwise noted.