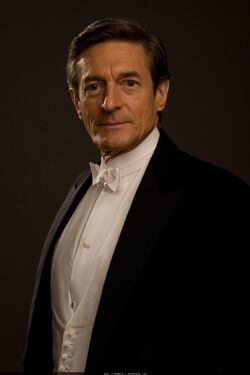 Lord Hepworth was a nobleman who courted Rosamund in their youth. His nickname is Jinx. He was a guest at Downton during the New Year. Violet Crawley, the Dowager Countess of Grantham is well acquainted with the Hepworth family, having been pursued by Lord Hepworth's father in the late 1860s. However, Lord Hepworth is in debt and has had to sell off his family estates, Hatton Park and Locke Earle, and heavily mortgage Hepworth House, his London home on Grosvenor Square.
He appears to be fond of Lady Rosamund, who consider marrying Lord Hepworth, since she insists she is "tired of being alone" to her family and who is aware that he as no wealth and that they think he isn't suitable for her. However, the process is being helped along by Rosamund's new maid, Marigold Shore, who is eager to see her mistress marry Hepworth.
Anna notices that Lord Hepworth and Shore, seem is be very close and friendly to each other on several occasions. Anna informs Mary, who leads Rosamund to catch Hepworth and Shore being intimate together. Rosamund learns Shore was only interested in her marrying Hepworth so she and her lover could be near. Shore and Hepworth are told to leave the house first thing in the morning, with Shore stating "don't worry we will." Rosamund is shaken and angered by the discovery, remarking "I so hate it when Mama is proved right", referring to Violet's warnings that Lord Hepworth was an unsuitable spouse and only interested her fortune.