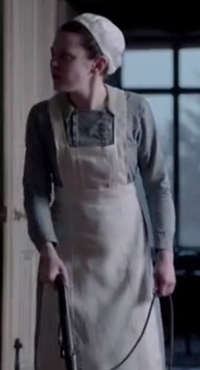 Madge is one of the housemaids at Downton Abbey.
Biography
Edit
When Alfred asks Ivy to go with him to the movies, Mrs. Hughes says that they may go if Madge or Alice goes with them. When Alfred and Ivy are walking back from the movie, two women are walking behind them. Presumably Madge and Alice.
She was vacuuming the drawing room carpet when Ivy came and told her that Miss O'Brien, the Countess's lady's maid, had left in the night. Madge immediately went to the library and relayed this news to the other housemaids.
When Mrs Patmore had an anxiety attack during the preparation of dinner for the assembled guests of a house party at Downton, Madge was the one who rung for Dr Clarkson.
Mary mentions to Anna before she and Tom go to London on business that Madge has been attending Edith just as Anna herself had done before she officially become a lady's maid.
In 1924, when Rose becomes engaged to Atticus Aldridge, Mrs Hughes tells Carson that Madge told her Atticus's father Lord Sinderby is not keen on the match.
Finally in 1925, Madge packed in her job at Downton, and took up a job in a shop leaving Downton Abbey without any housemaids.
Appearances
Edit
Behind the Scenes
Edit
Madge was portrayed by Holly Thomas.
It is unknown if Madge started working at Downton in 1922 or if she had been hired before then.
Shown walking from the movies with Alice, behind Alfred and Ivy in Episode 3.07 (Autumn 1920).
Community content is available under
CC-BY-SA
unless otherwise noted.