Jurassic World: Dominion Dominates Fandom Wikis - The Loop
Play Sound
"I will love you until the last breath leaves my body."
—Matthew to his wife, Mary Crawley
Matthew Reginald Crawley[2] (b. 1885[3] - September 1921[4]) was a lawyer from Manchester and the only son of the late Doctor Reginald Crawley and of his nurse wife, Isobel. By his father he was a distant relative of the Earls of Grantham and he became the heir of the title due the heir's death. Matthew then met his third-cousin, once removed, Robert Crawley, 7th Earl of Grantham, and moved to Downton a few months after where he met and quickly fell in love with Robert's eldest daughter, Mary. He and Lady Mary Crawley entered a tumultuous eight-year relationship ending with Matthew's second proposal in early January 1920. Mary finally accepted, five and a half years after the first. They were married in May 1920 and lived together in Downton Abbey. Matthew became co-owner of the estate following the Crawleys' financial problems arising from bad investments, when Matthew was able to come to the rescue investing the money inherited from his late fiancée's father to Downton. Mary soon became pregnant and gave birth in September 1921 to their son, George Crawley. Unfortunately, Matthew was killed shortly afterwards in a car accident after a visit to his wife and newborn son at the hospital, making George the heir of the title, earldom, estate, and fortune. 
Biography
Background
Matthew was the third-cousin, once-removed of
Robert Crawley, fifth Earl of Grantham
. His great-great-grandfather was the younger son of the third Earl of Grantham. His late father,
Reginald Crawley
, was a medical doctor who had done research on infections in children. Reginald Crawley trained, along with his future brother-in-law, Sir Edward Turnbull, under Matthew's maternal grandfather, Sir John Turnbull, who was also a medical doctor. His mother trained as a nurse during the
Anglo-Boer War
. Very little is known about Matthew's previous life. Born in 1885, he grew up in
Manchester
, Lancashire, as the son of an upper middle class doctor. He was educated at Radley College and then went on to Oxford where he studied law. He lived with his mother (his father having died sometime before 1912) while working as a solicitor specializing in industrial law. He met Lord Grantham once in London before being invited to move to Downton.
Matthew was a middle class lawyer from Manchester until he got a letter from Robert Crawley in 1912 that informed him that he was the heir to Robert's estate and would, eventually, be the 6th Earl of Grantham. He arrived at Downton Abbey in September 1912.
When Matthew learnt that he was to be the heir of Robert, he tried to refuse it, but there was no legal means to do so. He and his mother Isobel travelled from Manchester, Lancashire to Downton village, where he found a job at a law firm in Ripon called Harvell and Carter.
The eldest daughter of Lord Grantham, Mary, was less than pleased with Matthew's arrival; as a woman, she could not inherit the estate and title, so originally it had been planned for her to marry the previous heir, Patrick Crawley, but he drowned on the Titanic. Though she did not love Patrick, she had been raised around him and at least thought him of a better class than the distinctly middle-class Matthew. Matthew and Mary's relationship is further complicated by the fact that the first time they meet she overhears him referring to the possibility of the Crawley family's throwing one of their daughters at him, thus she initially resented and disliked him, assuming that he was arrogant, and even referred to him once as a "sea monster."
Matthew Crawley had been raised middle class and saw no need for servants to do everything for someone. Local man Molesley had been hired as his valet, but Matthew stubbornly kept dressing himself. Over time, Matthew came to accept his life in Downton, though he was initially reluctant to admit that his life had changed. However, he came to help Robert run the estate while working, and grew to accept his fate.
Although Matthew is taken with Mary from first sight, he slowly tries to build a friendship with her. As the months progress in 1913 and 1914, their relationship matures, and Mary slowly falls in love with Matthew. He eventually proposes in 1914, but Mary decided to wait to give him an answer, as she was having trouble trying to tell him of her relationship with
Kemal Pamuk
, believing that not to tell him would be a lie, and if he found out, he would leave her. Matters were further complicated by the fact that Cora, who had last given birth eighteen years ago, became pregnant. If the baby were to be a boy, Matthew would be displaced as heir. Mary took advice from her aunt,
Rosamund Painswick
, who thought she should wait and see. Mary couldn't quite do this, and admitted to Matthew all the advice she had received, but her lack of an answer hurt Matthew, and he believed her lack of an answer was only due to his status as a middle-class country lawyer, and possible displacement of being the heir. After Cora miscarries, and Mary continues to not give him her answer, Matthew on the verge of tears, retracts his proposal at the garden party, and tells Mary he is moving back to Manchester: "the experiment is at an end." He walks away, leaving Mary in tears, with only Carson to comfort her. Minutes later, Lord Grantham tells the garden party that Britain has declared war on Germany. It is August 4, 1914.
The Great War
When the First World War started, Matthew enlisted in the army, being ranked as Lieutenant Crawley, and stayed away from the Crawleys for two years. In 1916/1917 he was made an ADC of a British General and was promoted to the Rank of Captain. As a result, he went on a recruitment drive in Northern England. During the war he met his future fiancée Lavinia Swire, the daughter of a solicitor. He briefly returned to Downton to introduce her to the Crawleys in 1916, before leaving for the front again. Early in the morning at the train station before he boarded, Mary surprises him, by being the only one there to see him off. Mary gives him a good luck charm, a stuffed dog from her childhood, kissed him on a cheek, and asked him to take care. Despite this exchange, the two kept their lingering feelings for each other hidden, especially since Mary was now being courted by Sir Richard Carlisle. Back in the trenches, when Matthew is on patrol or about to fight, he rather than putting Lavinia's framed photo in his pocket, he always puts Mary's good luck dog with him.
In 1917, upon the urging of Lord Grantham, Mary writes Matthew a letter that arrives in the trenches. Matthew is upset to receive a letter from her informing him that she is now engaged to Sir Richard. Although Matthew himself is engaged, the news deeply shakes him, and he tells William (Downton's footman who is now Matthew's batman in the war), that he wants to go out on patrol with him only. William questions Matthew about this abrupt decision. While on patrol, they are outflanked by the German Infantry, causing them to be reported as missing in action. Robert hears the news, and only tells Edith. Robert is very shaken up by this, telling Bates that he "loves Matthew like a son." Later Edith feels she needs to inform Mary about Matthew being missing, not to be spiteful, but because she knows Mary still loves him, and Edith wants to prepare her. Unfortunately, she tells Mary this news right before she is to perform a duet (Edith on piano, Mary as the singer) for the recovering wounded at Downton. Matthew and William both turn up at Downton Abbey while Mary is performing the song "If you were the only girl in the world." Mary is extremely relieved that Matthew is safe, and Matthew joins in with Mary to finish the song. Although they clearly love each other, Matthew asks about her engagement and saddens Mary when he tells her he is anxious to go to London to see Lavinia while on brief leave.
In 1918, he fought at the Battle of Amiens, where he and William Mason were caught by a falling shell during a charge. Bravely, William threw himself in front of Matthew, protecting Matthew from the blast, but in doing so, the two fall down into a muddy ditch, with William falling on top of Matthew, with Matthew's back hitting a broken wood wagon wheel below. This heroic act saved Matthew's life. Molesley wakes Robert up to inform him about William and Matthew's serious injuries. Mary is heartbroken, but relieved he is still alive. Both of them are sent back to Downton. Although William does not appear injured, he has sustained serious lung damage, and the doctor warns both his father and Williams' love Daisy, that he will surely die. William is then transferred to one of the Abbey's bedrooms to rest, rather than in hospital, where he marries Daisy on his death bed. Matthew is transported to the Downton hospital upon arrival where Sybil Crawley and Mary were waiting. After being cleaned, dressed, and rested, his mother Isobel returned from France to see him. Mary devotes herself to being Matthew's nurse.
Doctor Clarkson later informed Robert that Matthew had sustained spinal cord damage and that he believed Matthew would not only never walk again, but never be able to father children. Mary later told Matthew that his spinal cord had been damaged after asks her repeatedly what is wrong with him, and Matthew realizes he is paralyzed from the waist down. After deducing himself that he was likely impotent, Matthew broke off his engagement with Lavinia so she would not have to spend the rest of her life as his childless nurse.
During his recovery, he was nursed by Mary in hospital and then at Downton Abbey, which caused friction in her relationship with Sir Richard. As the war ended on November 11, 1918, Matthew began to feel sensation coming back into his legs, but only informed 
John Bates
, who sustained leg injuries in the Boer War with Robert, and swore Bates to secrecy. Bates helps Matthew as well, wheeling him around, and helping him into his small hospital bed that has been put into a small Downton bedroom for his use.
After the War
"You loved her once - you sure you can't love her again? "
—Violet to Matthew about his love for Mary
As Matthew recovered, Cora and Sir Richard believed that Mary was getting too close to Matthew, so Cora invited Lavinia to Downton under the pretense that Matthew had wished it; her appearance there clearly shocked Matthew, Mary, and Robert.
When Matthew broached the subject of their relationship with Mary, he said he could not father an heir while Sir Richard could give her children. Later, Lavinia informed Matthew that she was still in love with him and would take care of him, no matter what, which touched him greatly. Lavinia was willing to sacrifice her life because of her deep love for him, no matter what.
Whilst alone in a room, Lavinia went to remove a tray of tea cups, but tripped over a footstool, this prompted a wheelchair-bound Matthew to stand up by reflex and grab her arm, to stop her from falling and injuring herself. His standing stunned both of them. Whilst most people in the house were happy with Matthew's recovery, Sir Richard had become worried that Mary would now leave him for Matthew. Doctor Clarkson also revealed that he had been cautious with Matthew's diagnosis because he hadn't wanted to give him false hope about walking. Matthew then announced he would marry Lavinia after all.
As he recovered, Matthew used a cane to walk and remained at Downton Abbey, rather than Crawley House with his mother, slowly learning to walk himself down the wedding aisle. However, Violet visited him in his room and informed him that Mary was still in love with him, and she wanted him to marry her instead of Lavinia. Violet warned him that "divorce" was not an option for someone in his position, and said he should think very carefully. Matthew, despite loving Mary, believed it was his duty to marry the caring Lavinia since she wished to marry him despite his being a cripple and impotent.
By April 1919, Matthew was getting ready for his marriage to Lavinia, however the Spanish Influenza epidemic had by then reached Downton and
Charles Carson
, Cora and Lavinia were infected with the disease, as well as others. Initially, Cora was the one who was extremely ill, whilst Lavinia appeared only to have a mild case, and rested at Downton after excusing herself from dinner. Whilst she rested, Matthew tested the gramophone they had been given as a wedding present and invited Mary to join him for a dance. While they were dancing, they discussed their relationship. Matthew then apologised for rescinding his proposal, told her about Violet confronting him and confided that he was marrying Lavinia out of duty and implied he was still in love with her. They then kissed whilst unbeknownst to them, Lavinia stood on the stairs behind them. Lavinia then announced herself, feigned ignorance of their discussion and headed back to bed.
Due to the illness in the house, Lavinia and Matthew postponed their wedding. Lavinina did not want her father to come either, as he had a weak chest and Spanish Flu would put his health in danger. As Lavinia lay, appearing only slightly ill, with Matthew beside her, she confronted him about what she had heard and told him that she loved him, but did not wish to marry him since he loved Mary. She also stated that she was a "small person" and realized the Downton estate and title were enormous, and that she did not want to be "Queen of the County." Matthew was stunned by this and tried to make her reconsider, but she asked him to leave as she was tired. Matthew did so, but wished to continue the discussion at a later time.
Only a brief time later, as Matthew was eating dinner, Sybil rushed in to inform him that Lavinia's condition had worsened considerably. The illness had settled in her lungs, making it incurable. The family rushed to her bedside, where Lavinia told Matthew that it was better this way because "he won't have to make a hard decision" (whether to marry her or Mary) and that she just wanted him to be happy. She then died, as Matthew tried to reassure her and hold her hand. After her funeral, Matthew revealed to Mary that Lavinia had seen and heard them before her death. He believed that she died of a broken heart and that they were the cause. He called their relationship "cursed" and stated that they could never be together. Crushed but understanding, Mary accepted Sir Richard's offer to walk her home.
1919 Christmas
"You lived your life and I lived mine, now it's time we live it together."
—Matthew's second proposal to Mary
By Christmas of 1919, Matthew had repaired his friendship with Mary, although it was plain for everyone to see that they were still in love. Richard Carlisle became jealous that Mary would not set a date for their wedding and the two began to argue. Matthew tells Mary that she does not have to marry Richard, or marry anyone for that matter, and that as long as he is alive, Mary will have a home at Downton Abbey always. Lavinia's father Reginald (also the name of Matthew's father and Matthew's own middle name), meanwhile has died, and it is Matthew's job to bring his ashes to Lavinia's grave. Mary asks if she can be there when this is done, which also upsets Richard, as he is not invited. While they depart Lavinia's grave in the rain, Isobel tells Matthew to fight for Mary, and not to give up by blaming Lavinia's memory. Even though Matthew insisted that he deserved unhappiness, his love for Mary soon prevails.  
When Robert Crawley's dog went missing, Matthew helped to search for her and asked Mary why she wished to still marry Sir Richard, when it is obvious they do not get along. Despite initially resisting, she eventually admits that she lost her virginity to Kemal Pamuk and that he died in her bed, which shocks Matthew. He also realized that Sir Richard was keeping the story from publication, initially out of fondness to Mary, but now as a sort of blackmail. After keeping the Kemal secret from Robert for many years, Cora also finally tells Robert that Kemal did not die of a heart attack in his own bed, but that Kemal died in Mary's bed, and she helped Anna and Mary move his body back to his room. Mary later admits this to her father. Robert in his own sort of way, also tells Mary that she is not the only one to have "made a mistake." Robert had almost slept with a housemaid, and only did not, when Bates almost walked in on them. When Robert urges Mary to break off the engagement, and to move to the U.S. to find a "cowboy" Mary is relieved and breaks it off with Sir Richard. Sir Richard is extremely mad, and as he argues with Mary, Matthew enters the room. Sir Richard upset by Matthew protecting Mary yet again, prompts Richard to tell Matthew that Lavinia had admitted to him that she knew Matthew never loved her. A fight then broke out between the two men, which was broken up by Robert. Richard left the following day and Mary told Matthew she would go to New York to visit her maternal grandmother to wait out the scandal.
That evening, during the Servant's Ball, Mary goes outside to stand by herself in the softly falling snow. After Matthew broke off their original engagement on August 4, 1914 at the garden party, Mary asked him, "would you have stayed, had I accepted you?" This time around January 3, 1920, Matthew asks Mary, "will you stay, if I ask you to?" Mary is worried Matthew will bring up the "Kemal incident" and won't be able to get how he betrayed Lavinia out of his head. Matthew assures her that "he has lived his life, and she has lived hers, and now it is time to live them together." Mary is stunned, and Matthew gets down on his knee to propose again, as Lady Mary happily accepts, and Matthew scoops her up to hug her in the snow.
Marriage
Only a few months later in the Spring of 1920, Matthew's marriage to Mary was soon to take place, when he received news that he may be the heir to the fortune of Reggie Swire. He believed that he had played a part in Lavinia's death, that he had broken her heart and her will to live when she was sick with Spanish Flu. Matthew did not want to accept the sizeable inheritance, a decision which Mary somewhat initially agreed with. As the wedding plans moved along, Robert Crawley learnt that all of the estate's money, including Cora's fortune, had been lost in his bad investment with a Canadian railroad company, and he informed Mary. Mary believed that the money Matthew may inherit could save the estate, but, as Matthew does not want to take it, they argue. Mary felt that this was a fundamental difference in their personalities, and mulls over cancelling her wedding. Thanks to Anna and Tom, now Sybil's husband, they reconciled and finally married the following day after a eight year on-and-off courtship.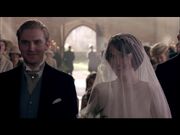 The problem of the money plagued the beginning of their marriage, and they argued more about it after Mary's maternal grandmother,
Martha Levinson
, was unable to give them any more of her husband's fortune to save Downton. Martha is only allowed to give Cora a dress allowance each year and that is it. Matthew had learned that the two other potential heirs to Reggie Swire's fortune had died, and that he would definitely inherit, but he was still determined to give the money away. However, they soon discovered that Reggie Swire gave Matthew the money knowing full well that he and Lavinia wouldn't have gotten married if she had lived. Lavinia had written her father a letter before she died informing him that Matthew was a good man as he was still willing to marry her because of his promise, despite loving Mary. After learning this, Matthew accepted the money and put it into running Downton, becoming the co-owner with Robert.
The co-ownership was not initially a smooth one as Matthew discovered that Robert's way of running the estate was very wasteful, and it caused great friction as his father in-law wished to keep things the same. In the middle of all this, Sybil and Tom returned to Downton, and Sybil gave birth to a daughter before dying of eclampsia hours later with Matthew as one of the witnesses. Sybil's death caused a lot of mourning and tension within the house, however it did strengthen Matthew's bond with Mary and they continued to try to have a baby.
Matthew soon teamed up with Tom, and together they were able to convince a reluctant and sad Robert that the running of Downton needed to change. Together, they set about keeping Downton safe for the future by buying back farms that weren't being farmed properly from older tenants, adding sheep, and expanding wisely. Additionally, Matthew also came to believe he may be sterile due to his war injury since Mary was not yet pregnant. Whilst at a fertility doctor, he asked if his wife had come to see him. Because of doctor/patient confidentiality, the doctor says he cannot discuss that, but he was not aware of a "Mrs. Crawley" being a patient. When Matthew goes downstairs to exit, he discovers Mary there (using her mother's maiden name, Levinson). He takes her to a restaurant to cheer her up, over what he believes is his fertility problem. Mary tells him though that it was she who had a problem, which stuns Matthew. She doesn't tell him what kind of operation she had, explaining that she can't "talk about this sort of thing, even to [Matthew]." They hadn't had sexual relations in weeks, and Matthew says he was beginning to worry that Mary had "gone off" him. He is relieved that her recovery from the operation was the reason for the abstinence. Mary informs Matthew that the doctor assured her that she would become pregnant within 6 months.
Son's birth and death
"I feel like a swallowed a box of fireworks"
—Matthew about his son's birth
Mary
becomes pregnant in January 1921
[5]
, and in September of 1921, whilst eight months along, she and Matthew went with her family and a few servants to visit their relatives at
Duneagle Castle
in Scotland. Matthew and Robert were both very concerned with Mary's condition, particularly because of what happened to
Sybil
, and wanted her to stay home,
Carson
was also worried of the safety of Mary, but she insisted. Whilst Mary spent time with the other women, trying to be careful as everyone wished, Matthew went stalking with
Robert
and
Hugh MacClare
, and later fished with
Michael Gregson
, giving him advice about his relationship with
Edith
, stating that they should end it due to Gregson being married.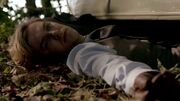 An outing in a carriage and a dance at a ball caused Mary to feel unwell and decide to head home. Matthew insisted upon coming with her, but Mary promptly refused because she said it would be rude to Hugh and Susan to leave, and she wanted Matthew to enjoy himself before fatherhood arrived. Upon arrival at the train station, Mary goes into labor and Anna and the driver take her directly to the hospital. Anna informs Carson, who gets word to Duneagle to return home as soon as possible by train. While Matthew's mother Isobel Crawley was comforting her during labour, Mary told her "she only feels half herself without Matthew there." Carson informs the chauffeur to bring Matthew's car to the train station and to leave it there, so when he gets off the train, he can drive himself directly to the hospital. Although the baby was three weeks early, Mary safely gives birth to their son, later to be named George Crawley. While Mary was holding their still unnamed baby, Matthew appears at the door asking her if a "hot and dusty traveller" could come in. Matthew is overjoyed with happiness, telling Mary that "he's dancing a jig" and felt as though "he's swallowed a box of fireworks." He tells Mary she will be a wonderful mother, and that she would be "his Mary for all eternity" and that he "loves her more and more every day."
On his drive back to Downton to tell the family about his son, a happy and proud Matthew was speeding and not paying attention to the road, instead looking at the trees on the right. Down a small hill to the left side, a small delivery truck was coming towards Matthew and he swerved to the left, at the last second, to avoid hitting the truck head-on. His car overturned on top of him and Matthew appeared to have suffered from a broken neck or serious head injury, as blood slowly trickled down his face.
[6]
He appeared to have died instantly at the age of 36, while Mary still held their son in hospital, unaware he was dead.
After his death
It is now February 1922, and Matthew's funeral is not shown, but Molesley's
father
and the Dowager watch as the final headpiece decoration to Matthew's grave is added. This can only be added six months after death, as the ground has to settle for that long. Mary sleeps on Matthew's side of the bed, with their wedding photo on the nightstand, and another photo of him on her dressing table. Mary is in very deep mourning six months on. Matthew's mother Isobel has mostly been by herself at Crawley house, with a slightly different wedding photo of Mary and Matthew on the mantle. Edith goes to visit her, and she urges her to come to the house to visit her grandson. Isobel said when you lose your only child, you are nothing really. The Dowager (Violet) also visits Isobel and urges her to be an involved grandmother as well. A deeply mourning Isobel tells Violet that she is just an old woman who eats off trays now, and has no need for Molsley anymore at all. Isobel is surprised, that a meticulous lawyer such as her son, seemingly has died without leaving a will. As a result, Robert believes that Mary only owes 1/6 of Downton, and that he is also in charge of George's half, and that Mary really should not have any say in how Downton is run. However, a letter is soon found that Matthew had written the day before the family let for Duneagle.  Matthew reveals his intention to return and make an official will naming Mary his sole heiress, that she "take" charge as he knew not if their then unborn child would be a boy or girl but would be a baby.  He admitted he had not drawn up a will and felt better writing it down at that moment.  Most of the family seemed delighted for Mary, but Robert was certain it was not an official will and could not stand as one. However, his lawyer affirmed it was, that thanks to Matthew, Mary now owned half of the entire estate.
Relationships
"I am more in love with you every day which passes "
—Matthew to his wife
At their less-than-cordial first meeting, Mary snidely remarked that the idea of him being the new heir is a joke. Even though Mary refused to acknowledge him, and often made rude remarks about his middle-class life, he fell in love with her immediately. Eventually they got more acquainted and slowly became friends. After he saved
Lady Sybil
from a riot (
Episode Six
), while Sybil was upstairs dealing with her furious parents, Mary and Matthew had their first opportunity to be alone together, over sandwiches. Mary remarked that he "must be careful not to break Sybil's heart" and that she thought Sybil "has a crush on him." Matthew replied that, "no one could accuse you (Mary) of that" meaning, of having a crush on him. Mary replied, "Oh, I don't know". This shocked Matthew by her admitting out-of-the-blue, that she had a crush, and more, on him. They finally shared a passionate kiss, and off-camera, Matthew proposed.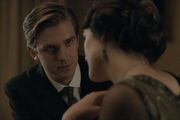 Mary told her stunned mother that she was in love with Matthew, and probably had been longer than she had admitted to herself. She took time to think it over, only because she was worried that she would have to tell him that she lost her virginity to the Turkish diplomat,
Kemal Pamuk
, who died of a heart attack in her bed, right after sleeping with Mary. Later her aunt (Mary's father's sister,
Rosamund Painswick
), reminded Mary that Matthew was only a middle-class solicitor, he was not rich or powerful at all, and said she would be bored with him. Ultimately, Mary decided to wait before giving Matthew her decision, which was further complicated by her mother's unexpected pregnancy. If the baby was a boy, then Matthew would no longer be the heir and Mary would simply be the wife of a middle-class lawyer. The delay caused Matthew to doubt her feelings and he withdrew his proposal.
At the start of Series 2, he is engaged to a Miss
Lavinia Swire
. However, he breaks off this engagement after he is told that he can never have sexual relations or walk due to his injury. Mary, though she is also newly
engaged to
Sir Richard
, becomes his primary caregiver, until Lavinia is secretly invited back to Downton by
Cora
and Sir Richard. When Lavinia trips over a footstool, Matthew steadies her without realising that he is standing up. He slowly begins to recover and they announce they are again to be married at Downton in April 1919. On the night of their announcement,
Violet
tells Matthew that Mary is still in love with him, but he knows that his loyalties lie with Lavinia, even though his love for Mary has been re-ignited, especially when she cared for him in the hospital and in his wheel chair.
In the Series 2 finale, both Cora and Lavinia contract Spanish flu and must remain bed-ridden at Downton. While Lavinia recuperates, Matthew talks to Mary and suddenly apologises for breaking up with her, and admits he is in love with her (Mary) before they share a passionate kiss while dancing privately. However, Lavinia leaves her sick bed and comes downstairs, and sees them kissing. Lavinia later confronts Matthew while in sick bed, about not only what she saw, but what she heard him say. Her condition suddenly worsens only a short time later, and on her deathbed, she alludes to the fact that Matthew won't have to make the decision between her and Mary, as she knows she is near death. She only wishes Matthew happiness and for him to remember her fondly. Matthew is convinced that he killed Lavinia because she heard and saw what he did with Mary. He tells Mary at the graveyard that their life together is "cursed" and that it is the "end for both of them." Sir Richard helps a distraught Mary walk back to her home.

In the Christmas special, everyone heralds the start of the 1920s. Cora reveals to Robert that Mary is only marrying Sir Richard as he has threatened to expose details of her one night stand with Pamuk. Robert later talks to Mary and gives her permission to call off the engagement. Mary tells Matthew what had happened between her and Kemal Pamuk, which leaves him absolutely stunned. However, he tells Mary that he never would, and never could, despise her.

Matthew's mother Isobel urges Matthew to "fight" for Mary. Matthew later interrupts an argument between Mary and Sir Richard after Mary calls off the engagement. When Sir Richard makes another threat, Matthew literally does fight for her, by punching Richard in the face. Matthew does this after Sir Richard informs Mary and Matthew that Lavinia supposedly told him years ago that she knew Matthew was still in love with Mary, and that Lavinia was worried. Lavinia supposedly told Richard that she was just waiting for Mary and Matthew to admit it so they (Lavinia and Richard) could find true love with others. Matthew and Richard fight, breaking a very valuable vase before being stopped by Robert, with his typical classic line "stop this at once!" 
Sir Richard leaves Downton the following day, and Mary apologizes for using him. Later that night Matthew asks Mary if she will reconsider going to America if he asks her to stay at Downton. He then assures her that her history with Pamuk and his disastrous ending with Lavinia will never come between them in their present and future life together. Astonished and delighted, Mary accepts his formal proposal of marriage, but makes Matthew get down on his knee, something he did not do six years previously.
In the third season, Matthew is set to wed Mary, but disagreements lead to arguments for them. Mary wishes to remain living at Downton. Matthew however wishes to live further away, in a much simpler manner, knowing the future is changing and uncertain. In terms of rescuing Downton, he sees his principles and morals as having priority, which further upsets Mary to the point that Matthew does not believe she will show up at their wedding ceremony. She does, however, and they are married and go on a honeymoon in France. Matthew forms a friendship with
Tom Branson
, the former chauffeur who married Lady Sybil. He asks Tom to be his best man, and he also tries to help him fit in into the Crawley family. Matthew receives word that Lavinia's
father
has named him his heir, but he still feels guilty about Lavinia's death so he refuses to claim his inheritance, causing friction in his relationship with his wife. When he receives a letter from the dead man, he refuses to read it, and is angry when Mary does. When the letter explains that Mr. Swire had known all that passed between his daughter and Matthew, he refuses to believe it until Mary finds evidence that Lavinia posted a letter the very day she died. Matthew then claims the money and invests it in the estate, becoming co-owner of Downton while Tom becomes the estate's agent after
the original agent
resigns. Mary and Matthew finally become increasingly closer and loving after Sybil's death, but continue to struggle to conceive a child. Matthew blames himself, since he was impotent and paralyzed after being injured near the end of WWI. Cora sends Mary to a fertility doctor in London and Mary discovers the issue was on her side. She has an operation to correct it. Both Mary and Matthew secretly go to the same fertility doctor in London. Upon Matthew leaving his appointment, he finds Mary checking in. Mary tells Matthew reluctantly about her operation, and that the doctor thinks she will become pregnant soon. Mary becomes pregnant around January 1921. She gives birth three weeks early, in September 1921, and only moments after Matthew meets his son (George Crawley) for the first time, dies in a car accident racing back to Downton Abbey to tell the entire family about their new heir.
Lavinia Swire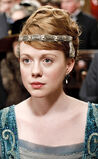 Lavinia Swire was Matthew's fiancée during the war. She contracted the Spanish Influenza and witnessed Matthew and Mary dancing together and kissing. She then confronts Matthew on her deathbed and told him what she saw and heard and that she loved him very much and wanted to marry him, but she postpones their wedding as he loves Mary. In her final moments, Lavinia tells Matthew to be happy for her sake and to remember her fondly before dying. At her funeral, Matthew is tortured with guilt and remorse and believes that he killed Lavinia and that she died of a broken heart.
Tom Branson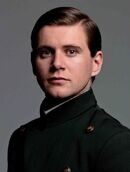 During series one and two, Matthew and Tom's relationship was a normal relationship between a member of the family and a servant. When it appeared that Sybil had a crush on Matthew when he saved her from a rally in Ripon, Tom was jealous. In series three, after Tom and Sybil's wedding, Matthew and Tom become close friends, because Matthew wanted to help him to fit in with the Crawleys and even asked him to be the best man at his wedding with Mary. After Sybil's death, Matthew and Tom become best friends and start to develop plans for a new management for Downton Abbey. Matthew teaches Tom to play cricket and the two bond with their father-in-law, Robert Crawley.  
Quotes
Appearances
References