Matthew Reginald Crawley[2] (b. 1885[3] - September 1921[4]) was the only child and son of the late Reginald and Isobel Crawley. He was married to Lady Mary Crawley, and father to his only child, a son named George Crawley. He was a middle class lawyer from Manchester until he got a letter from Lord Grantham in 1912 informing him that he is the heir to his estate and would, eventually, be the 6th Earl of Grantham. He does not arrive at Downton Abbey with his mother until early 1913 though.
Matthew was a soldier during World War I, eventually being sent home injured after being left paralysed from the waist down due to an explosion. Despite the belief the injury was permanent and would also prevent him from having sexual relations and therefore fathering a child, after convalescing, he recovered the use of his legs and his sexual functions. Although he courted Lavinia Swire during the war and intended to marry her, she died during the outbreak of the Spanish Flu, and he married Lady Mary in 1920. In September, 1921, Mary gave birth to their son and heir, George Crawley. However, that same day while joyfully racing back to Downton to deliver the good news, Matthew was killed in a car accident.[5] at the age of 36.
Family
Matthew was the third-cousin, once-removed of Robert Crawley, Seventh Earl of Grantham. His great-great-grandfather was the younger son of the third Earl of Grantham. His late father, Reginald Crawley, was a medical doctor who had done research on infections in children. Reginald Crawley trained, along with his future brother-in-law, Matthew's maternal uncle[1], under Matthew's maternal grandfather, who was also a medical doctor. His mother trained as a nurse during the Anglo-Boer War and may have received tutoring from her father as well.
Biography
Background
Little is known about Matthew Crawley's previous life. Born in 1885, he grew up in Manchester, Lancashire as the son of an upper middle class doctor. He lived with his mother (his father having died sometime before 1912) while working as a solicitor specializing in industrial law. He met Lord Grantham once in London before being invited to move to Downton.
Heir of the Downton Abbey Estate
When he learns that he is to be the heir of Lord Grantham, he tries to refuse it, but there is no legal means to do so. He and his feisty mother Isobel travel from Manchester, Lancashire to Downton village, where he finds a job at a law firm in Ripon called Harvell and Carter.
The eldest daughter of Lord Grantham, Mary, is less than pleased with Matthew's arrival; as a female, she cannot inherit the estate and title, so originally it was planned for her to marry the previous heir, Patrick Crawley, but he drowned on the Titanic. Though she did not love Patrick, she had been raised around him and at least thought him of a better class than the distinctly middle-class Matthew. Their relationship is further complicated by the fact that the first time they meet she overhears him referring to the possibility of the Granthams throwing one of their daughters at him, thus she initially despised him, and even referred to him once as a "sea monster."
Matthew Crawley had been raised middle class and saw no need for servants to do everything for someone. Local man Molesley had been hired as his valet, but Matthew stubbornly kept dressing himself. Over time, Matthew comes to accept his life in Downton, though he is initially reluctant to admit that his life has changed and so must he. However, he comes to help Robert run the estate while working, and grows to accept his fate.
His relationship with Mary also matures, and the two slowly fall in love. He eventually proposes in 1914, but Mary decided to wait to give him an answer, as she is having trouble trying to tell him of her relationship with Kemal Pamuk, believing that not to tell him would be a lie, and if he found out, he would leave her. Matters were further complicated by the fact that Cora had fallen pregnant, and if the baby were to be a boy, Matthew would be displaced as heir. Mary took advice from her aunt, Lady Rosamund Painswick, who thought she should wait and see. Mary couldn't quite do this, and admitted all the advice she had received, but her lack of answer hurt Matthew and he retracted his proposal even after Cora miscarried.
Minutes later, Lord Grantham tells the garden party that Britain has declared war on Germany.
The Great War
When the First World War starts, he enlists in the army, being ranked as Lieutenant Crawley, and stays away from the Crawleys for a while. In 1916/1917 he is made an ADC of a British General and is promoted to the Rank of Captain.  As a result, he goes on a recruitment drive in Northern England. During the war he meets his future fiancée Lavinia Swire, the daughter of a solicitor. He briefly returns to Downton to introduce her to the Crawleys in 1916, before leaving for the front again. At the train station before he boards, Mary gives him a good luck charm, kisses him on a cheek, and asks him to take care. Despite this exchange, the two keep their lingering feelings for each other hidden, especially since Mary is now being courted by Sir Richard Carlisle.
In 1917, he and William go out on a patrol and are outflanked by the German Infantry, causing them to be reported as missing in action. Later on, he turns up at Downton Abbey on leave as Mary is performing a song for the wounded soldiers currently convalescing at Downton. She is relieved that he is okay, whilst he helps her finish the song by joining in. In 1918, he fights at the Battle of Amiens, where he and William are caught by a falling shell during a charge. Bravely, William protects Matthew from the blast, which severely wounds him, but Matthew's back lands on a wagon wheel whilst William fell on him. This heroic act saves Matthew's life.  Both of them are sent back from the front, severely injured, with Matthew returning to Downton hospital where Sybil and Mary were waiting. After being cleaned, dressed, and rested, his mother Isobel returns from France to see him.
Doctor Clarkson later informs Robert that Matthew has sustained spinal cord damage and that he believes Matthew will not only never walk again, but never be able to father children. Mary later tells Matthew that his spinal cord has been transected, which is incurable.  After deducing himself that he is likely impotent, Matthew breaks of his engagement with Lavinia so as to avoid turning her into his nurse for life and breaking her heart.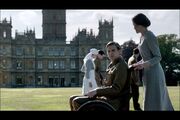 During his recovery, he is nursed by Mary, which causes friction in her relationship with Sir Richard. As the war draws to a close on 11 November, 1918, Matthew begins to feel sensation coming back into his legs, but only informs Bates and swears him to secrecy.
After the War
As Matthew recovered, Cora and Sir Richard believed that Mary was getting too close to Matthew, so Cora invited Lavinia to Downton under the pretense of Matthew wishing it; her appearance clearly shocked Matthew. When broaching their relationship with Mary, he says he cannot father an heir while Carlisle can give her children. Later, Lavinia informed Matthew that she was still in love with him and would take care of him, no matter what, which touches him. Whilst alone in a room, Lavinia went to remove a tray of tea cups, but tripped over a footstool, prompting a wheelchair-bound Matthew to stand up and stop her from falling and injuring herself, stunning both of them. Whilst most people in the house were happy with Matthew's recovery, Sir Richard became worried that Mary would leave him for Matthew. Doctor Clarkson also revealed that he had been cautious with Matthew's diagnosis because he didn't wish to give him false hope about walking. Matthew then announced he would marry Lavinia after all.
As he recovered, Matthew used a cane to walk and remained at Downton, slowly learning to walk himself down the wedding aisle. However, Violet visited him in his room to inform him that Mary was still in love with him, and she wanted him to marry her instead of Lavinia, warning him that "divorce" is not an option for someone in his position, and to think very carefully. Matthew, despite loving Mary, believed it was his duty to marry the caring Lavinia since she wished to marry him despite his being a cripple and impotent.
By April 1919, Matthew was getting ready for his marriage to Lavinia, however the Spanish Influenza epidemic reached Downton, infecting
Carson
,
Cora
and
Lavinia
, as well as many other servants. Initially, Cora was the one who was extremely ill, whilst
Lavinia
appeared only to have a mild case, and rested at Downton after excusing herself from dinner. Whilst she rested, Matthew tested the gramophone they had been given as a wedding present, inviting
Mary
to join him for a dance. As they danced, they discussed their relationship, during which Matthew told Mary about
Violet
visiting his room, and apologised for breaking off their engagement, as well as revealing he was marrying
Lavinia
out of duty. They then kissed as, unknown to them,
Lavinia
stood on the stairs.
Lavinia
announced herself, feigned ignorance of their discussion and headed back to bed.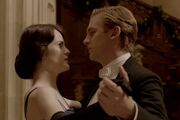 Due to the illness in the house, Lavinia and Matthew postpone their wedding, but Lavinia had more to say. As she lay, appearing only slightly ill, with Matthew beside her, Lavinia confronted Matthew about what she heard, telling him that she loved him but did not wish to marry him since he loved Mary. She also stated that she never really comprehending that marrying him would make her a countess and everything the title entailed. Matthew was stunned by this and tried to make her reconsider, but she asked him to leave as she was tired. Matthew did so, but wished to continue to discuss calling off the wedding at a later time.
Later, as he was eating dinner, Sybil rushed in to inform him that Lavinia's condition had worsened considerably. The illness had settled in her lungs, making it (at this time) incurable. The family rushed to her bedside, where Lavinia told Matthew that it is better this way because "he won't have to make a hard decision" (whether to marry her or Mary) and that she just wants him to be happy, before dying as Matthew tried to reassure her. After her funeral, Matthew revealed to Mary that Lavinia had seen and heard them before her death, believing she died of a broken heart and that they were the cause. He called their relationship "cursed" and stated that they could never be together. Crushed but understanding, Mary agreed and left with Sir Richard.
1919 Christmas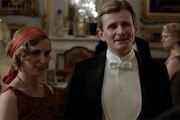 By Christmas of 1919, Matthew had repaired his friendship with Mary, although it was plain for everyone to see that they were still in love. Sir Richard became jealous that Mary would not set a date for their wedding and the two began to argue. Meanwhile, after the death of Lavinia's father, and his funeral, Isobel told Matthew to fight for Mary and not to give up by blaming Lavinia's memory.
When Robert's dog went missing, Matthew helped to search for her and asked Mary why she wished to marry Sir Richard. Despite initially resisting, she eventually admitted to sleeping with Pamuk and that he died in her bed, which shocked him. He also realised that Sir Richard was keeping the story from publication, initially out of fondness to Mary, but now as a sort of blackmail. Mary later told her father the story as well, and Robert told her it didn't matter and to leave Richard anyway, which she does, causing him to become angry. Matthew entered the room upon hearing the shouting, prompting Richard to tell Matthew that Lavinia had admitted to him that she knew Matthew never loved her. A fight then broke out between the two men, which was broken up by Robert. Richard left the following day and Mary told Matthew she would go to New York to wait out the scandal.
That evening, during the Servant's Ball, Matthew and Mary stand outside, where he asked her not to go to New York. Believing that Lavinia wished him to be happy, and disregarding her affair with Pamuk, he asked Mary to marry him, and she gladly accepted.
1920
By the spring of 1920, Matthew's marriage to Mary was soon to take place, when he received news that he may be the heir to the fortune of Lavinia's father. He believed that he had played a part in Lavinia's death, that he had broken her heart and her will to live when she was sick with Spanish Flu. While standing on the stairs above and watching them dance below, Lavinia had overheard him telling Mary that he was still in love with her, but had to marry Lavinia out of duty. Matthew did not want to accept the sizable inheritance, a decision which Mary somewhat initially agrees with. As the wedding plans move along, Robert learns that all of the estate's money, including Cora's fortune, has been lost in his bad investment with a Canadian railroad company, and he informs Mary. Mary believes that the money Matthew may inherit could save the estate, but, as Matthew does not want to take it, they argue. Mary feels that this is a fundamental difference in their personalities, and mulls over canceling her wedding. Thanks to Anna Bates and Tom Branson, now Sybil's husband, they reconcile and finally marry the following day after a six year on-and-off courtship.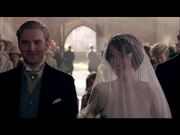 The problem of the money plagues the beginning of their marriage, and they argue more about it after Mary's maternal grandmother, Martha Levinson, is unable to give them more of her husband's fortune to save Downton. Matthew has learned that the other potential heirs have died and that he will definitely inherit, but he is still determined to give the money away. However, they soon discover that Reggie Swire gave Matthew the money knowing full well that he and Lavinia wouldn't have gotten married if she had lived; Lavinia had written her father a letter before she died informing him that Matthew was a good man as he was still willing to marry her because of his promise, despite loving Mary. After learning this, Matthew accepted the money and put it into running Downton, becoming the co-owner.
The co-ownership is not initially a smooth one as Matthew discovered that Robert's way of running the estate was overly-costly, and it caused great friction as his father in-law wished to keep things the same. In the middle of all this, Sybil and Tom, returned to Downton, and Sybil gave birth to a daughter before dying of eclampsia with Matthew as one of the witnesses. Sybil's death caused a lot of mourning and tension within the house, however it did strengthen Matthew's bond with his wife and they tried to have a baby.
Matthew soon teamed up with Tom, and together they were able to convince a reluctant and sad Robert that the running of Downton needed to change. Together, they set about keeping Downton safe for the future. Additionally, Matthew also came to believe he may be sterile due to his war injury since Mary was not yet pregnant. Whilst at a fertility doctor, he asked if a Mrs. Crawley had come to see him, but he discovered Mary (using her mother's maiden name, Levinson) there and learned that she had been the one with the problem (it is not known what the problem was, as Mary said she couldn't "talk about this sort of thing, even to [him]), which she had had fixed with an operation.
1921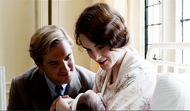 Mary
fell pregnant in January 1921
[6]
, and in September of 1921, whilst eight months along, she and Matthew went with her family to visit their relatives at
Duneagle Castle
in Scotland. Matthew was very concerned with Mary's condition, particularly because of what happened to
Sybil
, and wanted her to stay home, but she insisted. Whilst
Mary
spent time with the other women, trying to be careful as everyone wished, Matthew went stalking with Robert and
Hugh MacClare, Marquess of Flintshire
, and later fished with
Michael Gregson
, giving him advice about his relationship with
Edith
, stating that they should end it due to Gregson being married.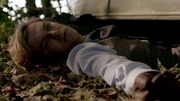 An outing in a carriage and a dance at a ball caused Mary to feel unwell and decide to head home. Matthew insisted upon coming with her, but Mary promptly refused because she said it would be rude to Shrimpie and Susan. Upon arrival, Mary went into early labor, forcing Matthew and the others to hurry home. While Matthew's mother Isobel is comforting her during labor, Mary tells her "she only feels half herself without Matthew there." Although the baby is three weeks early, she safely gives birth to a boy, later to be named George Crawley]], before he arrives. While Mary is holding their still unnamed baby, Matthew appears at the door asking if a "hot and dusty traveler" can come in. He is overjoyed with happiness, telling Mary that "he's dancing a jig" and feels as though "he's swallowed a box of fireworks." He tells Mary she will be a wonderful mother, she will be "his Mary for all eternity" and that he "loves her more and more every day."
On his drive back to Downton to tell the family about his son, a happy and proud Matthew is speeding and not paying attention to the road, instead looking at the right side at tall trees lining the narrow road. Down a small hill to the left side, a truck is coming towards Matthew and he swerves to the left, at the last second, to avoid hitting the small delivery truck head-on. His car overturns on top of him, and crushes his body, pinning him underneath . Matthew then appears to suffers from a broken neck or serious head injury, as blood slowly pours down his face. He appears to have died instantly at the age of 36, while Mary holds their son in hospital, unaware he is dead.
At their less-than-cordial first meeting,
Mary
snidely remarks that the idea of him being the new heir
is
a joke. Even though Mary refuses to acknowledge him, and often says rude remarks about his middle-class life, he falls in love with her immediately. Eventually they get more acquainted and slowly become friends.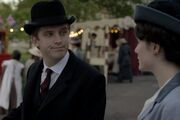 After saving
Lady Sybil
from a riot in
Episode Six
, Mary is worried that
Sybil
and Matthew will become a couple. Matthew's mother immediately senses that Mary is in love with Matthew. Later that night, while Sybil is upstairs dealing with her furious parents, Mary and Matthew have their first opportunity to be together, alone, over sandwiches. Mary remarks that he "must be careful not to break Sybil's heart" and that she thinks Sybil "has a crush on him." Matthew replies that ,"no one could accuse you (Mary) of that (having a crush on him)." Mary replies, "Oh, I don't know," shocking Matthew by her admitting out-of-the-blue, that she has a crush, and more, on him. They finally share a passionate kiss, and off-camera, Matthew proposes.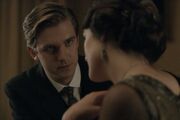 Mary
tells her stunned mother that she is in love with Matthew, and probably has been longer than she has admitted to herself. She takes time to think it over, only because she is worried that she will have to tell him that she lost her virginity to the Turkish diplomat, Kamal Pamuk, who died of a heart attack in her bed, right after sleeping with Mary. Later her aunt (Mary's father's sister, Lady Rosamund), reminds Mary that Matthew is only a middle-class solicitor, he's not rich or powerful at all, and she'll just be bored with him. Ultimately, Lady Mary decides to wait before giving Matthew her decision, which is further complicated by her mother's unexpected pregnancy. If the baby is a boy, then Matthew will no longer be the heir and Mary would simply be the wife of a middle-class lawyer. The delay causes Matthew to doubt her feelings and he withdraws his proposal.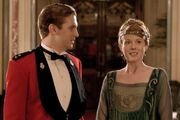 At the start of Series 2, he is engaged to a Miss
Lavinia Swire
. However, he breaks off this engagement after he is told that he can never have sexual relations or walk due to his injury. Mary, though she is also newly engaged to
Sir Richard
, becomes his primary caregiver, until Lavinia is secretly invited back to Downton by
Cora
and Sir Richard. When Lavinia trips over a footstool, Matthew steadies her without realising that he is standing up. He slowly begins to recover and they announce they are again to be married at Downton in April 1919. On the night of their announcement,
Violet
tells Matthew that Mary is still in love with him, but he knows that his loyalties lie with Lavinia, even though his love for Mary has been re-ignited, especially when she cared for him in the hospital and in his wheel chair. In the Series 2 finale, both Cora and Lavinia contract Spanish flu and must remain bed-ridden at Downton. While Lavinia recuperates, Matthew talks to Mary and suddenly apologises for breaking up with her, before they share a passionate kiss while dancing privately. However, Lavinia leaves her sick bed and comes downstairs, and sees them kissing. Lavinia later confronts Matthew while in sick bed, about not only what she saw, but what she heard him say. Her condition suddenly worsens only a short time later, and on her deathbed, she alludes to the fact that Matthew won't have to make the decision between her and Mary, as she knows she is near death. She only wishes Matthew happiness and for him to remember her fondly. Matthew is convinced that he killed Lavinia because she heard and saw what he did with Mary. He tells Mary at the graveyard that their life together is "cursed" and that it is the "end for both of them." Sir Richard helps a distraught Mary walk back to her home.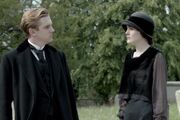 In the Christmas special, everyone heralds the start of the 1920s. Cora reveals to Robert that Mary is only marrying Sir Richard as he has threatened to expose details of her one night stand with Pamuk. Robert later talks to Mary and gives her permission to call off the engagement. Mary tells Matthew what had happened between her and Kemal Pamuk, which leaves him absolutely stunned. However, he tells Mary that he never would, and never could, despise her.
Matthew's mother Isobel urges Matthew to "fight" for Mary. Matthew later interrupts an argument between Mary and Sir Richard after Mary calls off the engagement. When Sir Richard makes another threat, Matthew literally does fight for her, by punching Richard in the face. Matthew does this after Sir Richard informs Mary and Matthew that Lavinia supposedly told him years ago that she knew Matthew was still in love with Mary, and that Lavinia was worried. Lavinia supposedly told Richard that she was just waiting for Mary and Matthew to admit it so they (Lavinia and Richard) could find true love with others. Matthew and Richard fight, breaking a very valuable vase before being stopped by Robert, with his typical classic line "stop this at once!" 
Sir Richard leaves Downton the following day, and Mary apologizes for using him. Later that night Matthew asks Mary if she will reconsider going to America if he asks her to stay at Downton. He then assures her that her history with Pamuk and his disastrous ending with Lavinia will never come between them in their present and future life together. Astonished and delighted, Mary accepts his formal proposal of marriage, but makes Matthew get down on his knee, something he did not do six years previously.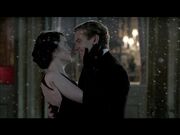 In the third season, Matthew is set to wed Mary, but disagreements lead to arguments for them. Mary wishes to remain living at Downton. Matthew however wishes to live further away, in a much simpler manner, knowing the future is changing and uncertain. In terms of rescuing Downton, he sees his principles and morals as having priority, which further upsets Mary to the point that Matthew does not believe she will show up at their wedding ceremony. She does, however, and they are married and go on a honeymoon in France.
Matthew forms a friendship with Tom Branson, the former chauffeur who married Lady Sybil. He asks Tom to be his best man, and he also tries to help him fit in into the Crawley family. Matthew receives word that Lavinia's father has named him his heir, but he still feels guilty about Lavinia's death so he refuses to claim his inheritance, causing friction in his relationship with his wife. When he receives a letter from the dead man, he refuses to read it, and is angry when Mary does. When the letter explains that Mr. Swire had known all that passed between his daughter and Matthew, he refuses to believe it until Mary finds evidence that Lavinia posted a letter the very day she died. Matthew then claims the money and invests it in the estate, becoming co-owner of Downton while Tom becomes the estate's agent after the original agent resigns.
Mary and Matthew finally become increasingly closer and loving after Sybil's death, but continue to struggle to conceive a child. Matthew blames himself, since he was impotent and paralyzed after being injured near the end of WWI. Cora sends Mary to a fertility doctor in London and Mary discovers the issue was on her side. She has an operation to correct it. Both Mary and Matthew secretly go to the same fertility doctor in London. Upon Matthew leaving his appointment, he finds Mary checking in. Mary tells Matthew reluctantly about her operation, and that the doctor thinks she will become pregnant soon. Mary becomes pregnant around January 1921. She gives birth three weeks early, in September 1921, and only moments after Matthew meets his son for the first time, dies in a car accident racing back to Downton Abbey to tell the entire family about their new heir.
Quotes
(Talking to Mary about Sir Richard Carlisle) "I hardly know him, but I'm sure I'll like him when I do. That's if he's good to you. If he's not, then he has me to answer to."
(Talking to William) "You have been taking those logic pills again. We're in the army, Mason, we're going on a patrol because we're going on patrol."
"I keep thinking about William, and how he should be here. Not exactly instead of me, but bravery should be rewarded."- to Mary as she wheels him around the estate.
"Go or stay, you must sack Carlisle,"- to Mary about Richard Carlisle.
" I never would, I never could despise you."-to Mary
"So there's a country boy inside the revolutionary." - to Tom Branson upon learning Tom's grandfather was a sheep farmer.
"You're on my team now." - to his wife.
"I'm on the side of the downtrodden." - to Lady Rose MacClare.
(Talking to Mary in their bedroom) "Come here." *Holds out hand* Mary- "No, you'll make me untidy." Matthew- *smiles* "Good."
"I would never be happy with anyone else as long as you walk the earth,"- to Mary on the night before their wedding, repeating Tom Branson's words.
Etymology
Matthew is a given name that ultimately comes from the Hebrew name Matityahu. It was first named to Saint Matthew, who was one of the twelve disciples and credited with the authorship of the Gospel of Matthew. It is commonly shortened to Matt, or especially in Ireland, Matty and commonly nickname(s) as Matt, Mat, Matty, Mattie, and Macey, and Matthew can also have alternative spelling as Mathew. The Hebrew name "מַתִּתְיָהוּ" (Matityahu) was transliterated into Greek to "Ματταθίας" (Mattathias),which was shortened to "Ματθαῖος" – (Matthaios). Deceptively, it is therefore unrelated to θεῖος (theios) meaning divine (adjective, e.g. theology) or sulfur (Koine noun, e.g. thiol group).The Greek Ματθαῖος was Latinised as Matthaeus, which became Matthew in English. The name is also sometimes used as an anglicisation of the Irish name Mathúin, meaning bear. The name Matthew became popular during the Middle Ages in North-West Europe, and appears in many European languages. The name has been very common throughout the English-speaking world since the 1970s.Matthew has been one of the 1,000 most popular male names in Australia, Canada and United States. In Great Britain, Matthew has been in the top 100 most popular male names. Currently, it is the 15th most popular name in the Republic of Ireland. In the United Kingdom, it was among the 10 most popular male names through the 1970s, 1980s and 1990s, and was ninth as recently as 2001, but by 2009 had fallen to 38th.
Reginald is a masculine given name in the English language. The name is derived from the Latin Reginaldus, which has been influenced by the Latin word regina, meaning "queen". This Latin name is a Latinisation of a Germanic language name. This Germanic name is composed of two elements: the first ragin, meaning "advice", "counsel","decision";[the second element is wald, meaning "rule","ruler". The Old German form of the name is Raginald; Old French forms are Reinald and Reynaud.Forms of this Germanic name were first brought to the British Isles by Scandinavians, in the form of the Old Norse Rögnvaldr. This name was later reinforced by the arrival of the Normans in the 11th century, in the Norman forms Reinald and Reynaud. Reginald and Reginaldus are used as Latinisations of the Old Irish, Middle Irish/Middle Gaelic Ragnall. This Gaelic name is cognate of Reginald, since Ragnall is derived from the Old Norse Rögnvaldr. The Scottish names Ronald and Ranald, originating in Western Scotland and the Northern Isles, are cognate with the Gall-Ghàidheil Raghnall/Rögnvaldr, cf. Clan MacDonald of ClanRanald, descendants of Raghnall mac Somhairle, King of Mann and the Isles.
Behind the scenes
Matthew Crawley was played by actor Dan Stevens in Downton Abbey television series from Series One to 2012 Christmas Special.
Appearances
References
↑ 1.0 1.1 Isobel mentions in Episode 2 that her "husband and brother" both trained under her father, so Matthew has a maternal uncle.
↑ http://www.telegraph.co.uk/culture/tvandradio/downton-abbey/9765334/Dan-Stevens-Why-I-left-Downton-Abbey.html
↑ January 1921 is eight months before September 1921, so that is when she fell pregnant as she was eight months pregnant when she gave birth.