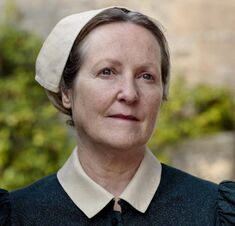 Mrs May[1] Bird is the cook for Crawley House that Isobel and Matthew Crawley brought with them when they moved to Downton village from Manchester.
She temporarily becomes the cook at Downton Abbey, when Mrs. Patmore must leave to go to Moorfields Eye Hospital in London to get surgery for her cataracts. Daisy tries to ruin Mrs Bird's cooking for the Granthams by putting soap in the pot, but Mrs. Bird sensed something was wrong and lied to Daisy about which food was going to the family and which one was going for the servants' meal. When the meal is terrible in taste, she angrily accuses Daisy. But after Daisy confesses and explains why she did it, Mrs Bird forgives her, admiring Daisy's loyalty to Mrs. Patmore. Later at a large party, when Mrs. Patmore returns, both cooks work together to prepare the food and hey even find themselves united in their belief that the cook should take precedence in the kitchen, even over Mrs. Hughes, the housekeeper.
She and Crawley House's butler, Molesley, start a weekly soup kitchen for veterans and later get help from Mrs. Patmore, Daisy Mason, Cora Crawley and O'Brien.
Mrs. Bird is horrified when Ethel Parks, the single mother who had resorted to prostitution for a living after the Great War is hired by Isobel Crawley. She tells Isobel that she cannot work in the same house with her. It appears that Mrs. Bird expects Ethel to be fired, but instead Isobel accepts Mrs. Birds resignation from her job with the Crawley. Mrs. Bird went back to Manchester to stay with her sister.
Behind the scenes
Mrs. May Bird is portrayed by Christine Lohr.
Notes and references
Community content is available under
CC-BY-SA
unless otherwise noted.