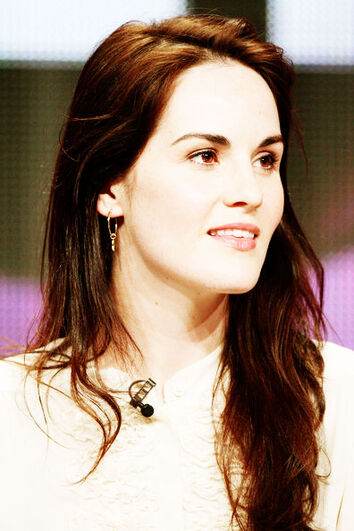 Michelle Dockery is the actress who plays Mary Crawley in Downton Abbey.
Michelle was born on 15 December 1981, in Essex. She trained at the Guildhall School of Music & Drama and graduated in July 2004.
She made her professional debut in a minor role in His Dark Materials as Jessie and the understudy called Lyra at the Royal National Theatre. In 2006 she was nominated for the Ian Charleson Award for her performance in Pillars of the Community at the National Theatre as Dina.
Michelle won second prize at the Ian Charleson Awards for her performance as Eliza Doolittle in Peter Hall's production of Pygmalion at the Theatre Royal, Bath which toured the UK and transferred to the The Old Vic on May 7, 2008.
Michelle has had roles in The UN Inspector, Fingersmith as Betty opposite Imelda Staunton, Charles Dance and Elaine Cassidy, Heartbeat as Sue Padgett in the episode entitled "Take Three Girls" and in an episode of Waking the Dead as Gemma.
Other roles include appearing in Consent with Daniel Mays, Daniel Ryan and Anna Madeley and in Dalziel And Pascoe as Aimee Hobbs alongside Warren Clarke and Colin Buchanan in the episodes called Project Aphrodite: Part 1 and Project Aphrodite: Part 2.
Michelle has appeared in Dying For It as Kleopatra, Uncle Vanya as Yelena and in Poppy Shakespeare as Dawn with Naomie Harris and Tessa Peake-Jones (Raquel in Only Fools And Horses).
But perhaps Michelle's most notable role was that of Susan Sto Helit the children's governess who is also Death's granddaughter in Terry Pratchett's Hogfather alongside Ian Richardson, David Jason and Marc Warren.
Michelle has also starred in the Red Riding Quartet or on Lovefilm listed as The Red Riding Trilogy as Kathryn Tyler in the episode called Nineteen Seventy-Four with Sean Bean, David Morrissey and Kelly Freemantle and Michelle appears again in the episode called Nineteen Eighty-Three reprising her role of Kathryn Tyler alongside Mark Addy, Sean Bean, Warren Clarke, Saskia Reeves and Daniel Mays.
Michelle has also appeared in Burnt By the Sun at The National Theatre.
She has also starred in The Courageous Heart of Irena Sendler as Eva Rozenfeld opposite Anna Paquin, Marcia Gay Harden, Nathaniel Parker and Paul Freeman.
Michelle has also starred as herself in The Whole Hog: Making Terry Pratchett's 'Hogfather'.
She has also starred in The Turn Of The Screw as as the young governess called Ann opposite Sue Johnston andMark Umbers and in Cranford as Erminia Whyte alongside Judi Dench, Lesley Manville, Julia Sawalha, Julia McKenzie and Imelda Staunton.
External Links