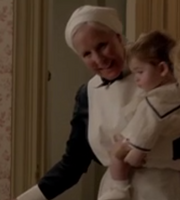 A new nanny is hired after
Nanny West
is fired for insulting
Sybbie
.
Mary
describes her to
Tom
as being "so much more relaxed" than hers and her sisters' nanny ever was.
She appears with both Sybbie and George entering the nursery, where Mary, Tom, and Isobel are waiting, having previously discussed their romances with their respective late spouses.
In 1924 she accompanies them when they meet the family, and then again when the king broadcasts across the house's new wireless, after which she takes them back upstairs.
Later that year, she is holding Marigold, who has now joined Sybbie and George in the nursery, as the family leave for London for Rose's marriage to Atticus Aldridge, and then later that year brings them outside again when the family is traveling to Brancaster Castle for the grouse season. She is also in attendance with the children for Downton's Christmas Eve celebration.
This nanny is played by Susie Coats.
She was hired directly after Nanny West was sacked
Appearances
Edit
Community content is available under
CC-BY-SA
unless otherwise noted.