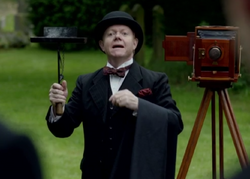 An unnamed photographer
is present at the christening of
Sybil Branson
at the Catholic church in
Ripon
.
He first takes a family photograph her with her father, uncle, maternal grandfather ad grandmother, great-grandmother, paternal uncle and maternal aunts Edith and Mary Crawley, asking them all to form a group around the father.
Then he takes a photograph of Robert, Violet, and Father Dominic, which Robert and Violet find uneasy because Father Dominic is a Catholic priest but manage to do so.
Notes
The photographer was portrayed by John Voce.
Given Tom's surprise at seeing the photographer outside the church, it is likely he did not know there were going to be photos taken. Edith tells him she hoped he didn't mind, suggesting either she or the family as a whole had planned for it.
Appearances