"Would you permit me to open the ball?"
—Prince Edward to Lord and Lady Grantham in 1923.
HRH Edward, Prince of Wales (23 June, 1894 – 28 May, 1972) was the eldest son of King George V and Queen Mary. He was named Prince of Wales on his sixteenth birthday. He became King Edward VIII of the United Kingdom and the Dominions of the British Commonwealth, and Emperor of India, from 20 January 1936 until his abdication on 11 December 1936.
1923
The Prince of Wales attended Lady Rose MacClare's coming out ball , where he was accompanied by Freda Dudley Ward.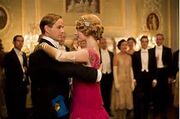 He later attends a party at
Grantham House
, where he dances with Rose.
Appearances
References
Community content is available under
CC-BY-SA
unless otherwise noted.