Line 14:
Line 14:
 
 
 
 
−

Violet says she is eighteen, meaning she was born in or before Autumn 1902; Violet also states that Rose "hates London" which is why she is staying with her. However, when she arrives and learns Edith is planning a trip to London, she eagerly wishes to go to, much to Violet's surprise. Rose's explanation is that she is planning a secret surprise for her mother, but does not say what. She asks no one else to mention this.

+

Violet says she is eighteen, meaning she was born in or before Autumn 1902; Violet also states that Rose "hates London" which is why she is staying with her. However, when she arrives and learns Edith is planning a trip to London, she eagerly wishes to go to, much to Violet's surprise. Rose's explanation is that she is planning a secret surprise for her mother, but does not say what. She asks no one else to mention this.

 
 
−

Later, Matthew decides to join Edith to come stay with her and Rose with her aunt, [[Rosamund|Lady Rosamund Painswick]], at Eaton Square. Also, Edith says she feels she will need help watching Rose, out of "instinct."

+

Later, Matthew decides to join Edith to come stay with her and Rose with her aunt, [[Rosamund|Lady Rosamund Painswick]], at Eaton Square. Also, Edith says she feels she will need help watching Rose, out of "instinct."

 
 
 

When they arrive at Rosamund's house, she insists they all dine with her that night, but Rose does not show up, so they begin without her. During dinner, Rosamund's butler brings in the cab driver who drove her from the house that day. He explains that Rose met a friend and spent two hours with him in Warwick Square, then they went to a club, the Blue Dragon.

 

When they arrive at Rosamund's house, she insists they all dine with her that night, but Rose does not show up, so they begin without her. During dinner, Rosamund's butler brings in the cab driver who drove her from the house that day. He explains that Rose met a friend and spent two hours with him in Warwick Square, then they went to a club, the Blue Dragon.

 
 
−

Matthew, Edith, and Rosamund go to the Blue Dragon where they find Rose dancing wildly with [[Terence Margadale]], a married man. Matthew then dances with her and persuades her to return to Rosamund's house, making a deal with her that they won't say anything about her seeing Margadale if she returns with them. However, Violet finds out about it anyway and Rose is told she is being sent to Scotland to keep her away from him.

+

Matthew, Edith, and Rosamund go to the Blue Dragon where they find Rose dancing wildly with [[Terence Margadale]], a married man. Matthew then dances with her and persuades her to return to Rosamund's house, making a deal with her that they won't say anything about her seeing Margadale if she returns with them. However, Violet finds out about it anyway and Rose is told she is being sent to Scotland to keep her away from him.

 
 
 

==Behind the scenes==

 

==Behind the scenes==
---
Revision as of 00:02, 8 November 2012
Lady Rose MacClare[1] (born In or Before Autumn 1902[2]) is the daughter of The Marquess and Marchioness of Flintshire and the great-niece of Violet Crawley, Dowager Countess of Grantham. In Autumn 1920, she will visit Downton Abbey and stay with Violet.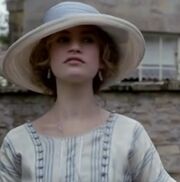 Violet says she is eighteen, meaning she was born in or before Autumn 1902; Violet also states that Rose "hates London" which is why she is staying with her. However, when she arrives and learns Edith is planning a trip to London, she eagerly wishes to go to, much to Violet's surprise. Rose's explanation is that she is planning a secret surprise for her mother, but does not say what. She asks no one else to mention this.
Later, Matthew decides to join Edith to come stay with her and Rose with her aunt, Lady Rosamund Painswick, at Eaton Square. Also, Edith says she feels she will need help watching Rose, out of "instinct."
When they arrive at Rosamund's house, she insists they all dine with her that night, but Rose does not show up, so they begin without her. During dinner, Rosamund's butler brings in the cab driver who drove her from the house that day. He explains that Rose met a friend and spent two hours with him in Warwick Square, then they went to a club, the Blue Dragon.
Matthew, Edith, and Rosamund go to the Blue Dragon where they find Rose dancing wildly with Terence Margadale, a married man. Matthew then dances with her and persuades her to return to Rosamund's house, making a deal with her that they won't say anything about her seeing Margadale if she returns with them. However, Violet finds out about it anyway and Rose is told she is being sent to Scotland to keep her away from him.
Behind the scenes
The part of Lady Rose MacClare is played by Lily James.
Appearances
Notes and references
Community content is available under
CC-BY-SA
unless otherwise noted.