The Royal Automobile Club is a real life London gentleman's club responsible for organising motorcycle and automobile races. Henry Talbot takes Mary to the club while she is in London after bringing Anna to see Dr Ryder. Henry refers to it as a temple for car lovers, while Mary views cars simply as a means for getting from A to B.
Behind the Scenes
Edit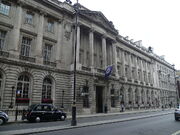 The Royal Automobile Club was founded on 10 August 1897 as the Automobile Club of Great Britain (and, later, Ireland). The headquarters was originally in a block of flats at 4 Whitehall Court, moving to 119 Piccadilly in 1902.
In 1905, the Club organised the first Tourist Trophy (TT) race, the oldest regularly run motor race. The Club became the governing body for motor sport in Britain. King Edward VII's interest in motoring led to the command in 1907 "that the Automobile Club of Great Britain and Ireland should henceforth be known as The Royal Automobile Club". In 1911 they moved to the current address, part of the site of the old War Office; the club house was (and remains) one of the largest in London.
Appearances
Edit
External links
Edit
Community content is available under
CC-BY-SA
unless otherwise noted.