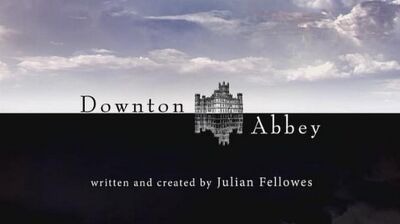 SPOILER ALERT!!!!!
We are thrilled to announce that ITV has commissioned a third series of Downton Abbey.
The new series will be set in 1920 and 1921, and the drama will cover a period of 18 months in the lives of the Crawley family and the servants who work for them.
Audience figures for the second series have increased by over 21 percent on the first, with an average of 11.5 million viewers watching the first six episodes – making it the most popular drama series on UK television for over 10 years.
Fans are speculating about the plot and character development in Series 3. Here are some of the story lines which fans have imagined. A wedding for Mary and Matthew takes place in the gardens of Downton Abbey. Speculation continues on whether, despite their clear devotion to each other, they will be able to start a family. Isobel convinces Mary and Matthew to be the lead performers at a charity fundraiser to support war refugees. While they are rehearsing their double act, Carson looks on longingly and asks if he could possibly do a number from his former performing days. Clearly after the war during the roaring 20's people are feeling liberated. Lady Edith is in search of a partner. Isobel takes on the cause of Edith as a new project. One theory on plot development has Edith using her knowledge of local church architecture to attract the interest of new vicar (to be played by Hugh Grant) who comes to replace the late Mr Davis. Robert gets restless at home and goes to watch the former housemaid Jane's son, Freddie, playing cricket with his school team. He longs for a son. Feeling guiltly about his liason with Jane, Robert decides to get involved in politics and starts heading to London to sit in the House of Lords. Bates, still in jail, is seen playing rugby with a team he organizes among his fellow prisoners. He convinces Anna to smuggle in a rugby ball, and she complies although she's worried he'll be injured. American "Grandmama", Cora's mother, brings modern ideas including updating the bathrooms at Downton Abbey and encouraging Cora to travel more.She brings a breath of fresh air to the household, and raises awareness that there is life outside Downton.She insists that Cora should welcome her companion, a brave cowboy from the middle west. When he arrives he introduces a different style of riding to Downton Abbey. Mary eagerly joins in. Lady Sybil and Branson return from Ireland so she can give birth at home, but Branson is made to feel uncomfortable living upstairs and finds it hard to avoid political arguments over dinner. However Tom proves his worth in Robert and Cora's eyes, by showing his dedication to Sybil's well being when she struggles in child birth. She delivers the first grandchild, a boy. To keep up with his reporting for the Dublin Times while at Downton, Branson borrows a typewriter from Gwen, Lady Sybil's former maid, now with British Telecom. Sir Richard, impressed by Branson's reporting, offers to hire him, but only on the condition that he will spy on the Crawley's to uncover some further scandal. Grandmama (actress Shirley Maclaine) proves equal to the talents of the rest of the family at charades, or "the Game" as Violet calls it. She volunteers to go confront Sir Richard when he runs a series of stories about Bates and his murder trial. Sir Richard, still sadly single, flirts with Robert's sister, Rosamund, whose relationship with Lord Hepworth broke apart in Series Two when he was caught with her maid. Thomas, now promoted as valet to Robert, pushes his luck by stockpiling valuables but is ultimately caught by Daisy who reports him to Mrs Hughes. This time O'Brien has no sympathy for him. She has decided to quit smoking but it puts her in a perpetually bad mood. Major Bryant's mother returns to Downton Abbey, seeking to track down Ethel and baby Charlie. Apparently her husband has gone to the US on business and she seizes the chance to reach out to their only grandchild.
External links
Community content is available under
CC-BY-SA
unless otherwise noted.