St. Michael and All Angels Church is where Albert Travis preaches for the villagers of Downton and the Crawley family, who are the church's patrons (as Violet Crawley reveals Travis's "living is in Lord Grantham's gift" as well as that his "house is on Lord Grantham's land, and the very flowers in your [Travis's] church are from Lord Grantham's garden.").
In 1920, Mary and her cousin Matthew Crawley married there by the Archbishop of York, who had been invited by Mary's father. Edith almost marries Anthony Strallan, until she gets jilted at the altar.
In 1925, Charles and Elsie Carson married here, making them the first servants to be wed at the church. Mary remarries here, after courting Henry Talbot for a few months. Isobel and Richard Grey also married here, where she instantly gained the title of Baroness Merton. On 31 December 1925, Edith and Bertie Pelham married here, where she gained the title of Marchioness of Hexham.
Matthew Crawley, Sybil Branson, William Mason, and Lavinia Swire are all buried in the church cemetery.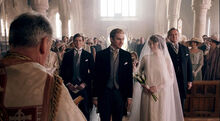 Edith mentions that Travis baptized her and her sisters, so this is likely where they were baptized. It is also likely, but not confirmed, that Mary and Matthew's son George Crawley was baptized here, and maybe even his cousin Marigold when she was living with the Drewe family (but this too remains unconfirmed).
Appearances and Mentions
Edit
Community content is available under
CC-BY-SA
unless otherwise noted.