Thomas Barrow is the current butler, succeeding Charles Carson at Downton Abbey, having formerly worked there as junior footman, first footman, head valet, and under-butler, as well as serving in the army as a Corporal and later Lance Sergeant. He arrived at Downton in 1910, indicating in 1920 he had worked there for ten years.[2]
Little is known of Thomas's family, but he does tell Sarah O'Brien and later Jimmy Kent that his father was a clockmaker. As a result, he apparently has a natural affinity with clocks, saying that he grew up with them and "understands" them. O'Brien calls him the house's clock expert. He has worked at Downton for over 10 years, and as a footman used to wind all the clocks in the house. He also appears to be quite talented at cricket, Lord Grantham stating as much, noting he got most of the house team's runs in the 1919 match. He mentions to Bates that he has a cousin in Bombay. He is a homosexual, and once had an affair with the Duke of Crowborough, while the Crawleys were in London. In 1922, he brought his acquaintance Phyllis Baxter into the house to serve as a lady's maid to Lady Grantham. It is only in 1924 that it is revealed that Baxter was a friend of his sister when they were growing up. This is also the first mention of Thomas having a sister, thereby shedding some more light on his background. When Thomas lies about his father's illness in order to go to London to receive treatment to cure his homosexuality, Baxter tells him she feels sorry, as his father was always nice to her. Thomas replies bitterly that he was never very kind to him, implying a difficult relationship with his father.
The most notable aspect of Thomas's personality is his unsympathetic attitude towards almost everyone and his sly ways of achieving what he wants. He has shown himself to be capable of being very cruel and seems to hold others in disdain. He appears to be a very bitter man, having 'constitutional objection to anyone being happy', according to Molesley. It is not unthinkable that this is his way of dealing with his own unhappiness. He often gets people in trouble, not unusually by presenting his own intentions as good and implying the worst while not knowing for certain the truth. He is extraordinarily ambitious and selfish and doesn't let anything or anyone stand in the way of achieving his goals, even if this means lying, stealing, and blackmailing people. He is never above using crooked methods to further his own career. However, his schemes rarely work out the way he planned, such as when he tried his hand at the black market after World War I. Despite this, he is easily forgiven by the members of the upstairs.
He is a very proud man, with a razor-sharp tongue, biting sarcasm and dry humour. This makes him generally an unpleasant person to be around. However, he also has a kinder, sensitive and even caring side, although he rarely lets it show. It appears that he may be more insecure than he lets on and that behind his distant and unkind mask lies a vulnerable heart. When talking to Jimmy Kent, he remarked that '[they] both like to look so sure of [themselves], but that [they're] not so sure underneath, projecting his own insecurities on Jimmy.
He appears very loyal and even selfless to the people he cares about, although there aren't many. A notable example is his care for Lieutenant Courtenay, a soldier blinded by a gas attack when Thomas was working at the hospital as an army medic. He was also friendly with Lady Sybil at the time, never showing any unkindness towards her. He is subsequently shown sobbing after both their deaths, also emphasizing his ability to feel and care behind his aloof and cold exterior. Especially with footman Jimmy Kent, he shows a much softer side. He can also be surprisingly brave when his loved ones are at stake, such as when he took a beating for Jimmy at the Thirsk fair. After going to Dr. Clarkson together when Thomas tried to 'cure' his sexuality, Baxter commented that she thought he was very brave to put himself through all that pain just to get what he wants, and that he could achieve great things if he only set his mind to it. After this, he is also more sympathetic and even defensive towards Baxter. He also learnt to be kinder to the staff after he attempts suicide due to him feeling, for lack of a better phrase, "the odd one out" after the staff treat him horribly after Andy arrives in order to "protect" the latter from Thomas' sexuality. Since the departure of Miss O'Brien to India and since his first unwitting attempt at suicide, Thomas has learned to be more friendly and non-aloof to the staff and even the family, creating a friendship between him and the Crawley grandchildren, especially George.
Thomas is a closeted homosexual man, by necessity as a homosexual act was a criminal offence at the time, punishable by imprisonment. This has made him reserved and aloof. It is rare for him to be sympathetic towards others or let his own emotions shine through. A possible explanation for this was given by himself when talking to Edward Courtenay. He appears to develop feelings for Lieutenant Courtenay and confides in him that 'all [his] life, people have pushed [him] around just because [he's] different', referring to his own sexuality. To Anna, he confided after hearing of Lady Sybil's death that 'in [his] life, not many have been kind to [him]'. Thus, it appears that the outside world's reaction to him and his sexuality specifically has made him very bitter. None of the relationships that we have seen have gone well for Thomas. He had an affair with the Duke of Crowborough, who then refused to hire him as his personal valet, telling him that 'one swallow does not make a summer'. After this remark, Thomas attempted blackmail, using the love letters sent by the Duke, but the Duke stole the letters back from Thomas and destroyed them. Thomas later makes an advance on Kemal Pamuk, a Turkish envoy, who threatens to tell Lord Grantham if Thomas does not tell him where Mary Crawley's room is. Later, it is implied that he falls in love with Edward Courtenay, who dies by suicide. Thomas is misled by O'Brien into thinking that Jimmy is a homosexual, and tries to kiss him while he is sleeping, but Jimmy is horrified. Although it appears that he has grown bitter from always having to keep his sexuality a secret for fear of prison and his failed romances, he remains a very proud man, not ashamed of who and what he is. In defense of his kissing Jimmy in his sleep, he told Carson after the incident that when one is like him, they must read the signs as best as they can, as no-one dares to speak aloud about it. When Mr. Carson continued to state that he is revolted and that Thomas has been twisted by nature into something foul, Thomas tells Mr. Carson that they are not the same, but he is not foul.
Thomas's father was a clockmaker, and Thomas has a natural affinity with clocks, calling them living things. His relationship with his father was a difficult one, as implied by his comment to Baxter that his father was 'never very kind to [him]'. It has been pointed out that his tendency to taunt Bates and bring out the aggressive side of him, especially while he was still a footman, is typical of abuse victims. When he enraged Bates by asking Daisy out on a date to embarrass William in his footman days, Bates slammed him into a wall in the hall of the upstairs bedrooms. Thomas just takes it and doesn't flinch, another sign that he may be used to physical abuse. This remains unconfirmed, although it may also explain his abrasive behaviour towards others and his general bitterness.
It is often speculated that Thomas's failed relationships and frustrations over the constant suppression of his homosexuality and never being able to explore who he is freely have made him bitter and left feeling unloved, causing him to lash out against even those closest to him and hold a high sense of false pride as a defense mechanism. His resentment of others, especially towards the Bateses ("The happy couple and everyone's so pleased for you"), may be born out of his own unhappiness. At times when he is most vulnerable, for example when he was facing unemployment with no reference, his confident exterior cracks. It is at such times that he told Mrs. Hughes that he was afraid he might 'shock and disgust' her with his sexuality, or admitted to Bates that he envied him for his happy relationship and good relations with the other downstairs staff. He remains a proud man, however, not welcoming pity even when he was ill from the quack 'homosexuality cure'. His quest to change his sexuality after Jimmy's sacking may have had its roots in his loneliness after losing his only friend (and love interest) at the house. The drastic measures involved in this (such as electroconvulsive therapy and investing a lot of money in this) show a certain level of pain and desperation behind his usually well-maintained behaviour. In the end, Thomas may be his own worst enemy.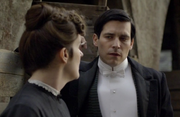 To begin with, Thomas is good friends with Sarah. They are as "thick as thieves" according to Lord Grantham. The two of them are constantly plotting to get John Bates fired, although none of their schemes are successful. She has considered Thomas a friend and he even knew her darkest secret.
Thomas and Sarah become bitter rivals when O'Brien's nephew Alfred Nugent comes to Downton to work as a footman. He didn't always like being a footman. She is fond of her nephew, and wants to see him succeed.  She asks Thomas to teach Alfred to be a valet to Matthew Crawley. Thomas absolutely refuses. Thomas had struggled, worked and schemed for 9 years to rise to the level of valet in a noble house. Alfred is a barely experienced footman, and Thomas sees it as an insult that he could just fall into the job in a matter of weeks. Thomas then sabotages Alfred's efforts to clean a spot off of Matthew's tailcoat, resulting in a hole being burned through it. Thomas convinces Lord Grantham that this is proof of Alfred's being not ready for the job. Alfred is demoted back to being a footman. Thomas repeatedly insults Alfred, and O'Brien and Thomas each repeatedly try to damage the reputation of the other. Sarah takes a stack of Robert's dress shirts and hides them so that Thomas is blamed for losing them, when his lordship cannot dress or dinner. When Lady Edith is left at the altar, Sarah says that she wouldn't be able to handle the shame. Thomas makes the nasty comment that it's a good thing no one has ever asked her.
When Thomas starts a rumour that O'Brien is going to leave Lady Grantham's service, it is the last straw, and O'Brien vows to get revenge. She tells Molesley to tell him that she may make some honest mistakes of her own and later threatens Thomas that soon everything will be "all wrong" with him. She plans to get him fired with no chance of a good reference and therefore almost no chance of getting another job. To do this she makes Thomas think that Jimmy Kent has romantic feelings for him. When Jimmy tells O'Brien that he is uncomfortable with how familiar Thomas is, she convinces him not to do anything. This ends in Thomas kissing Jimmy whilst Alfred happens to see everything. In reaction to this, she talks Jimmy into asking for Thomas to be sacked and Alfred into calling the police, although ultimately her schemes come to nothing, and Thomas keeps his job.
To begin with, Thomas is extremely annoyed that he had been passed up for the position of Lord Grantham's valet by "Long John Silver", which is what he calls John Bates when talking with O'Brien about the new valet. Throughout the first series, he is always at odds with Bates, trying to get him fired for theft so that he could become a valet.
During the second series, the animosity between Thomas and Bates is not seen much, due to many reasons, one being that Thomas was in the Army Medical Corps for a short time and then Bates is arrested, tried, and sentenced to hang, for the murder of his ex-wife Vera. Thomas wins Lord Grantham's favour and Bates's job as valet when he takes Lord Grantham's dog, so that he can be a hero by finding her. Isis has gone missing from where he'd hidden her, and he spends all night looking for her. Lord Grantham, however, is so impressed by Thomas's effort to find his dog that he ends up giving Thomas a trial as his valet.
In Series 3, Thomas still feels animosity toward Bates. Anna is renting out Vera's residence that was Bates's mother's house, but Thomas says that a murderer shouldn't profit from his crimes. When Bates is released from his wrongful conviction, Thomas is bitter that his former rival has returned. Thomas still hopes that Lord Grantham will decide to retain him as valet. He makes the comment that "It's Barrow now, Mr. Bates. And yes, I'm still here, and busy as a bee." However, it is increasingly obvious that Lord Grantham expects Bates to return to the job.
He is subsequently embroiled in the scandal with Jimmy, the footman, and almost accepts it as inevitable when, during Episode 8, Carson tells him that Bates will be returning to his former job the next morning. To Thomas's great surprise, Bates decides to strike up a temporary alliance against O'Brien with him (which Anna heartily disagrees with). John Bates has found out the story from Mrs. Hughes and learned that Thomas could possibly be sent to prison for criminal assault, a fate he would wish on no man. Though Thomas has schemed against him for years and plotted to get him fired, he has to help. Bates tells Anna that he knows how it feels to find yourself trapped and feeling your control of your own life slipping away. He gets Thomas to tell him something that will make Sarah O'Brien stop pushing Jimmy into threatening to go to the police, if Thomas is not dismissed without a reference, due to his homosexuality. When Lord Grantham subsequently decides to keep Thomas at Downton, he discusses it with Bates. He dislikes the idea that Thomas will be staying on. The antagonism between the two appears as Bates comments "Couldn't Mr. Barrow just stay until after the match, milord, and then go?" and then further saying "He might not want to stay, milord, after the unpleasantness." Later, Bates tells Anna that he was a fool, and, if he had just stayed out of it, Thomas would have been out of their lives forever. Overall, the relationship between Thomas and John is not exactly hate, but it's not a fully-fledged friendship, either. Thomas is amazed that John Bates his longtime rival will help him. He says that prison has changed him. Near the end of show when Thomas temporally leaves Downton, Bates and Thomas shack hands and seem to depart on good terms. Bates even says to Thomas that he would rather they depart as friends then as enemies.
Thomas's relationship with Daisy was rocky, at first. She was infatuated with him, blatantly smitten, but he only bothers with her to annoy the other footman, William Mason. He manipulates her and uses her against Bates, getting her to lie to Carson several times. 
She eventually gets over him, finds her voice and starts telling him to stop "being so unkind." She is the only one who does not see Thomas as an unkind person, just that he acts unkindly sometimes (sometimes meaning nearly always). 
They become friends as time goes by, when he comforts her and asks what's wrong when she's crying over Alfred leaving. He recognizes the mistakes she's made (he's just made them himself) and tries to comfort her. When Mrs. Patmore calls Daisy back into the kitchen, she says, "And Mr. Barrow, you quit teasing her!" To himself, Thomas comments, "I wasn't, actually." And for the first time, he wasn't. He was actually being kind to her. 
Thomas developed feelings for Lieutenant
Edward Courtenay
while Edward was recovering from gas-blindness. This is one of the first times Thomas is seen with a kind and caring side. Edward is despondent and fears he will never see again. Thomas tells him that he has to fight and get through this. Thomas reveals that he himself has always been pushed around, because he was different. When Edward asks him how he is different, he tells the Lieutenant that the reason is not important, and it is not shown that Edward shared Thomas' feelings. After being told that he was to be moved out of the hospital to make room for newer, wounded patients; Edward dies by suicide with a razor he sneaked into his bed. Thomas is seen crying, alone once again.
Sybil seems to be the one member of the Crawley family whom Thomas likes. They worked together during the war when Downton was a convalescent home and Sybil worked there as a nurse. They both like and are concerned about
Edward Courtenay
and try to convince Dr. Clarkson to let him stay on instead of being transferred. After Lady Sybil's death, Thomas is seen crying and when comforted by Anna, he says that not many in his life have been nice to him, and that she was one of the few. His misery continues the next day when at the breakfast table with the other servants. Perhaps because of his bond with Sybil, Thomas is close to her
daughter
, speaking kindly to her when he encounters her in her pram. He does not like Nanny West and warns Lady Grantham that she is leaving the children unattended at times. Although Thomas did like Lady Sybil, he does not share the same feeling about her husband Tom Branson. Thomas is angry that he has to serve Tom because he was a chauffeur and believes he should be treated the same as him. We see that Branson also doesn't like Barrow, when Thomas gets punched by William Mason, Branson says "Got what he deserved."
f
In 1920 Thomas develops an attraction to the handsome new footman Jimmy Kent. After Thomas's relationship with O'Brien ends away, Jimmy is the only member of the downstairs staff whom Thomas likes. He begins to behave very uncharacteristically. He goes out of his way to see and talk to him. Thomas also begins smiling a lot more. Thomas comes to his door, while Jimmy is getting dressed. Thomas starts to think that Jimmy has feelings for him. This is partly wishful thinking and mostly O'Brien's efforts to lead Thomas to believe that Jimmy returns these feelings, in an attempt to get revenge on Thomas by getting him fired. At the same time, O'Brien encourages Jimmy to learn from Thomas, as he has Lord Grantham's ear, and can further his career, and to not say anything when Jimmy feels that Thomas is being overly familiar. O'Brien has Jimmy go to Thomas to show him how to wind the clocks. Thomas holds Jimmy's hand while standing behind him with his other hand on Jimmy's shoulder. Thomas frequently touches Jimmy, who is uncomfortable with Thomas's actions, but he goes along with it, as Sarah leads him to believe his position could be in jeopardy if he makes a fuss about it and that it is a good thing that Thomas likes him. Sarah tells Thomas that Jimmy has a crush on him and that he won't stop gushing to Alfred about Thomas.
Jimmy comes to Thomas with his problems. He wants the job of the first footman, but thinks that Mr. Carson favours Alfred. Thomas impulsively says, "Well, I love you." That night Thomas goes into Jimmy's room when he is asleep and kisses him passionately, thinking his feelings will be returned. Jimmy awakes and is very angry, reacting violently and indicating that he feels nothing for Thomas. He throws Thomas out of his room leaving him with tears in his eyes standing in the hallway.
To make matters worse, Alfred sees it and tells Mr. Carson who says that Thomas will have to leave Downton, but that he will be given a good reference. Thomas defends Jimmy, saying none of this was his fault and that he was an innocent victim. Thomas says he felt an attraction to Jimmy and thought Jimmy returned it, but he was wrong. According to Mr. Carson, Jimmy has every right to report Thomas to the police. Mr Carson calls Thomas "foul" because of his homosexuality but despite everything, Thomas sticks up for himself saying "I'm not the same as you, but I'm not foul".
Jimmy is satisfied that Thomas will be leaving, but it is not enough for Sarah O'Brien. She tells Jimmy that he must insist that Thomas be made to leave without a reference, otherwise, he is to threaten to tell the police of what Thomas has done. No reference after 10 years would make it almost impossible for him to find another job. She tells Jimmy that unless he insists that someone like Thomas cannot be allowed to go to another respectable position, people will think that he is sympathetic and then they might suspect him of encouraging Thomas's advances. Thomas is devastated by Jimmy's betrayal. He still believes that Jimmy himself would not be capable of this and that someone has put him up to it. He even loses the will to fight for himself, as he later tells Bates, he feels as if he has been "well and truly beaten". Carson sees no option but to refuse a reference as otherwise, the intervention of the police would cause gossip and scandal. It is only the intervention of John Bates who not only takes the matter to Lord Grantham, but also uses information he gets from Thomas to force Sarah O'Brien to make Jimmy take back his threat, that allows Thomas to keep his job. Jimmy is unsure about Thomas staying, but Robert tells him at the same time that he has been promoted to the job of the first footman.
More than a year after these events, in the 2012 Christmas Special, Jimmy at first still appears uncomfortable around Thomas, and doesn't want to be seen alone with him or to even accept the gift of a drink when Thomas offers to buy everyone one. Thomas is still in love with Jimmy, despite everything that has occurred. Alfred confirms that Thomas won't allow a word to be said against Jimmy. Thomas, despite his bad hand also lends help when Jimmy is doing something difficult like moving a heavy trunk.
At the fair in Thirsk, Thomas follows Jimmy, as he knows that he has had too much to drink and is carrying the money he won in a bet. Later, whilst Jimmy is walking alone, two men attempt to rob him. Thomas appears and steps in to protect him, and tells Jimmy to run. Thomas is beaten and robbed in his place, after Jimmy runs away and leaves him there. Jimmy fetches Dr. Richard Clarkson and some of the other staff for Thomas and stays silent whilst Thomas fails to say what really happened, avoiding telling everyone that Jimmy left him alone to face the two men and get beaten.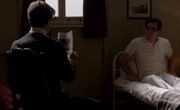 Jimmy later goes to see Thomas alone in his room and ask if he is alright. Jimmy says that Thomas was "brave" and that he feels bad for leaving him. Thomas disagrees and says that he should have run, if he didn't get away what was the point of Thomas doing any of it. He reveals that he had been following Jimmy that day as he had seen that Jimmy had had too much to drink. When Jimmy asks why he was doing this, Thomas says that Jimmy "knows why", implying that he still has feelings for Jimmy. Jimmy says that he can never give Thomas what he wants, and Thomas says that he understands that, but would like them to be friends. Jimmy says he can do that if it is only being friends and the scene ends with them chatting over a newspaper.
By 1922 they begin to show signs of their new-found friendship with Thomas showing no outward signs of his previous feelings for Jimmy. They often play cards together and despite whatever Thomas may still feel for Jimmy, he remarks before he accompanies Lord Grantham on a trip to America that he hopes to see Jimmy with a girl when he returns.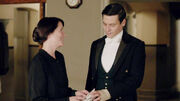 When O'Brien abandons the estate, leaving vacant the role of Lady Cora's personal maid, Thomas makes sure that Phyllis Baxter, an old friend, get the job. Thomas is willing to use the woman as a whistleblower on what happens in Downton, especially about Bates' secrets, by blackmailing her. The woman, in fact, was arrested for theft and served her time and is ashamed of her past. But when finally Baxter's secret is uncovered, Thomas has nothing with which blackmail her. The woman, meanwhile, discovers the dangerous medical treatments that Thomas is undergoing to cure his own homosexuality and is concerned about Thomas's health who is showing signs of weakness due to the drugs that he injects into his body. Baxter then makes an appointment with Dr. Clarkson, who intimate Thomas to stop taking the treatment and to accept himself, as he can not fight his own nature, or treat it with weird treatments. From this moment, Thomas and Baxter began a serene friendship.
Thomas and Andy know each other during the preparations for Lady Rose's wedding, when Andy was hired as a temporary footman due to the sumptuousness of the event and the limited staff. The young man is later deceived by Danker, that pin money from Andy to drink like a sponge in a tavern where it is possible to gamble.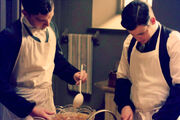 Thomas, however, who took a liking to Andy, puts Danker into trouble with the owner of the tavern, making the woman shell out the money in debt and also with the rest of the staff of Downton, who remain startled by a drunk Danker. During the 2014 Christmas Special, Mr Carson wants to hire a new footman and Thomas and takes this opportunity to advise him to hire Andy, since he had proved adept at Lady Rose's wedding. After an initial hesitation, Carson takes on Andy, influenced by the good words of Mrs Hughes. Andy and Thomas seem to have established a good friendship, but Mrs Hughes and Mrs Patmore don't look favourably the relationship between the two men. After a period of separation, in which Andy also avoids to stay too long in the same room with Thomas when possible, the young footman is helped by none other than Thomas when he offers to teach Andy to read and write, having discovered the secret Andy was hiding in shame. Andy also apologized to Thomas for the misconduct that has had against him, and the two go back to being friends. Andy, in the boot room, also reveals to the Bates that he is not interested in the rumors about Thomas and the couple doesn't seem to hinder the friendship between the two young men as Mrs Patmore and Carson do.
When Thomas tries to commit suicide, it is Andy who breaks through the bathroom door and rescues his friend, helped by Ms Baxter.
Master George seems to have a preference for Thomas among the downstairs members, probably due to the fact that the underbutler leave his duties in order to play with the child, piggyback ride through the halls of Downton are imperative. Despite Lady Mary having expressly told her son not to disturb Thomas, the two continue their games. After the suicide attempt, George accompanied by his mother visits his favorite servant, bearing an orange as a gift and wishing Thomas a speedy recovery from the flu (the excuse used to cover the attempted suicide any).
During the King and Queen's Royal Visit, Thomas and the King's Royal Dresser Richard leave Downton Abbey to go to York. While in York, Thomas and Richard prank call Mr. Wilson, persuading him to send all of the footmen back to London. Later on that night, Thomas is arrested and Richard, using his position within the Royal Household, manages to get him released from prison before telling Thomas to be a bit more circumspect in future. The next day, before Richard is due to leave, he kisses Thomas however they are interrupted by Andrew Parker who informs them the King and Queen are leaving. Richard gives Thomas a key ring to remember him by until they can meet again before leaving Downton.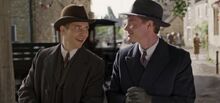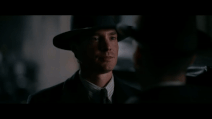 "Can't have you wobbly at both ends."
— To Mr Bates.
"Imagine Carson without a footman, like a ring master without a pony."
—Thomas in Episode 2.02.
"In my life, not many have been kind to me. She was one of the few."
—Thomas talking about Lady Sybil.
Thomas: "All my life they've pushed me around... just 'cause I'm different."
Edward: "How? Why are you different?"
Thomas: "Never mind. Look... look, I don't know if you're going to see again or not. But I do know you have to fight back."
"I'm not foul, Mr Carson. I'm not the same as you, but I'm not foul."
—Thomas defending himself to Mr Carson.
"When you're like me Mr Carson, you must read the signs, because no one dares to speak out."
—Thomas talking about being gay.
Baxter: "Please accept our best wishes for the future..."
Thomas: "What future?"
Mary: "Have you been lonely?"
Thomas: "If I have, I've only myself to blame. I've done and said things. I don't know why, I can't stop myself. Now I'm paying the price."
Mary: "Strange. I could say the same."
"You had faith in me when I had none in myself... and I'm grateful."
—Thomas thanking Miss Baxter for her kindness.
"I must go, Master George, but remember, I will always be your friend wherever I am."
—Thomas saying goodbye to George Crawley.
Julian Fellowes, the writer of the show, has said that Thomas is not as smart as he thinks he is.[4]
Speaking about Thomas's relationship to Sarah O'Brien, Rob James-Collier calls her Miss O.B. and says that Thomas and O'Brien met through the common bond of smoking together outside to avoid Mr Carson. He describes both of them as ambitious and says that they will stop at nothing to get ahead, and that Thomas opposed Alfred becoming a valet, because, as he was being rapidly pushed by O'Brien, Thomas feared that Alfred might be coming after his own job next. Collier believes, in their escalating feud, that O'Brien will always be willing to go one step further and that's what makes her scary. He feels that even if Thomas were able to forgive her and tried to reconcile it would not be in her to do it.[5]
Julian Fellowes relates that the character of Thomas is based on a dresser in his "theatrical past".[6]
The status of Thomas' mother is unknown, but some have interpreted a mention referring to her in past tense to Matthew in the trenches during World War I as an indication she is dead.
Thomas shares a very close relationship with the children of Downton Abbey, particularly little George - a striking parallel to Carson's relationship with Lady Mary as a little girl.
↑ Thomas's age and year of birth are unknown. The only clue as to his age is that in Episode 5.08, Thomas is decorated with the 1914 Star. This star was given to officers and men who served in France or Belgium in 1914; the minimum age for overseas service in the British Army at this time was nineteen. Therefore, the absolute youngest Thomas could be is 19 years old in 1914 (birth year of 1895). However, it is very likely that he was older, as this would mean he was fifteen when he was hired in 1910 - the age of a Hall boy, not a junior footman, who usually would have been older.
↑ In Episode 3.08, Thomas says "ten years" as to how long he has been working at Downton. As well as this, in Episode 6.02, set in 1925, Thomas tells Mr Moore that he arrived at Downton "as a junior footman fifteen years ago".
↑ Episode 5.08 - see this image.
↑

"The Chronicles of Downton Abbey: A New Era" by Jessica Fellowes, Matthew Sturgis.

↑

Masterpiece Series Three promo "Downton Abbey: Robert James-Collier speaks on Thomas and O'Brien"

↑

"The Chronicles of Downton Abbey : A New Era" by Jessica Fellowes, Matthew Sturgis.
Community content is available under
CC-BY-SA
unless otherwise noted.