Matthew and Mary Crawley
Edit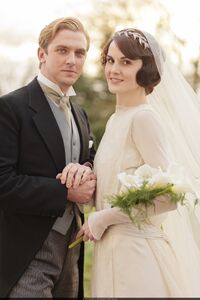 Matthew and Mary Crawley's relationship developed slowly over a number of years with many obstacles in their way before they were finally happy together. They come from different backgrounds and before Matthew became Robert Crawley's heir he was a solicitor in Manchester, whilst Mary was the eldest daughter of the wealthy aristocratic Crawley family at Downton Abbey. They gradually overcame their differences and the various obstacles that lay between them and came to realise that they both shared the same feelings of love for one another.
Matthew arrives at Downton
Edit
Mary and Matthew were fourth cousins. When they first met, he was enamoured of her but she mocked him and instantly disliked him. While she ridiculed him whenever possible, he appeared quite smitten with her, despite her often harsh words. As time passed, the more time they spent together the fonder she grew of him. Mary, despite originally intending to hate him for 'usurping' her inheritance, was soon drawn to his mild manners and sharp wit.
First proposal
Edit
Matthew proposed in 1914, and Mary told him she would think about it. The matter was further complicated by the fact that Cora was pregnant, and if the baby was a boy Matthew would no longer be the heir. Mary took advice from her aunt, Rosamund Painswick that she should wait and see, and she delayed giving Matthew her answer.
Mary also felt guilty about the Kemal Pamuk affair, and felt that she needed to tell Matthew about it before accepting him. This hesitation led to Matthew withdrawing his proposal as he wrongly believed she only wanted to marry him for his future inheritance of Downton Abbey, the title, and the money that accompanied this inheritance. Although Matthew cried, he told Mary, who was also crying, that he did not want to remain at Downton, and that the "experiment is over." Matthew had plans to return to Manchester where he was a city solicitor. Mary asked, "if I had accepted you, would you have stayed." Matthew answered, "of course." Mary was devastated.
Separated by War
Edit
Matthew's plans to return to Manchester were immediately interrupted as Robert Crawley announced that England was at war with Germany. Matthew left for the war, and they did not speak for two years as he was at the front. Whilst on leave in London, he mended his broken heart with a new young lady named Lavinia Swire. He proposed marriage to her, even though he barely knew her. Matthew returned to Downton with Lavinina in 1916 to introduce her to the Crawley family.
Days before Lavinina was due to marry Matthew at Downton in 1919, Lavinina became ill with Spanish Flu. While Lavinia was resting in bed, Mary found Matthew and the two of them danced to a phonograph record. Matthew told Mary that he was "so so sorry" for breaking up with her four years prior, and now wished that he could break up with Lavinina and marry her instead. Lavinia, now stood on the stairs, overheard what Matthew had told Mary and also caught them kissing. Lavinina returned to bed and informed Matthew what she saw and heard, and that she did not want to go through with their wedding. Lavinia believed Matthew belonged with Mary and has been having doubts for quite some time. Matthew felt guilty, and only hours later, Lavinina suddenly died of Spanish Flu. Matthew told Mary at Lavinia's grave that they broke Lavinia's heart, she lost the will to live, and that "they are cursed." Mary then walked back to Downton with her fiancée Sir Richard Carlisle.
Matthew proposes and is accepted
Edit
During the Christmas and New Year celebrations of 1919 and 1920, Mary and Matthew became closer, but Mary's fiance Sir Richard Carlisle, loomed over them as a threat. Mary was very unhappy with Sir Richard and grews to dislike him. Matthew pressed her for an explanation for her continued engagement in light of this distaste. When she broke off the engagement with the permission and support of her father, she decided to weather the storm of scandal caused by her one-night stand with Kemal Pamuk and go to America to visit her maternal Grandmother, Martha Levinson, to wait it out.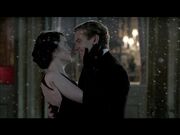 Mary finally told Matthew one night that she was not "pure" and that Kemal died in her bed. Although Matthew was shocked and stunned, he told Mary that he never would, and never could, despise her. At the Servant's Ball soon after, Mary stood alone in the falling snow at night, contemplating her trip to America. Matthew came outside and asked her to stay. He told Mary that the Kemal scandal would never come between them. He now believed that Lavinina would want him to be happy, and that they have both lived their lives, and it was time to live them together. Matthew proposed to her and she happily accepted.
---
SECTION BELOW NOT EDITED!!!!!!!!!!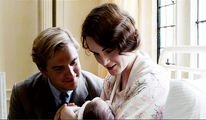 In Spring 1920, Matthew and Mary are ready to get married, but have arguments over an enormous inheritance Matthew might receive from Lavinia's deceased father. Mary's father has squandered Cora's money in a bad investment with a railroad. The family will be forced to move to smaller quarters and will have to sell Downton unless Matthew helps them out, which he at first refuses to do, as he feels guilty about letting Lavinia down. Mary thinks about calling off their wedding, but Tom and Matthew talk her into going through with it because "as long as they both walk the earth, they couldn't be with anyone else." Mary and Matthew finally wed, six years after his first proposal. Matthew is very anxious to start a family, but wrongly believes Mary is hesitant. As the months go on, Matthew believes he cannot father a child due to the severe bruising on his back during the war. At one time, Matthew was paralyzed from the waist down and was impotent as a result. Both Mary and Matthew secretly go to the same fertility doctor in London, where they run into each other in the waiting area. Mary has a small (undisclosed) operation and soon gets pregnant in January 1921. The Christmas Special episode, set in September 1921, sees an 8-months pregnant Mary going to Scotland with her family by train. Going on a very bumpy ride to a picnic and dancing later on, causes Mary to feel uneasy, and she wants to leave the next morning with Anna to return to Downton via train. After returning early from Scotland without Matthew or her family, Mary goes into labour after getting off the train, and Anna and the luggage porter immediately bring her to hospital. Mary tells Matthew's mother that she "only feels half herself without Matthew." Matthew rushes to the hospital several hours later as a "hot and dusty traveler" to find Mary holding their son and heir. Matthew then tells Mary that he falls more in love with her everyday and the two share a sweet moment with their unnamed son. Matthew then drives to Downton to tell the family in person about their son. Matthew's mother Isobel, waiting at Downton, has already told the Crawley family that the baby is a boy, but she has not seen the baby or Matthew. Matthew, extremely happy about the birth of his son, drives quickly to Downton while looking at the trees on the right side of the narrow dirt road. Matthew is not paying attention to the road, instead thinking about Mary and his son while looking at trees and speeding, and is forced to make a sharp turn to the left at the last second, avoiding an oncoming delivery truck coming up a small hill. Matthew's car rolls down the embankment and lands on top of him. It appears that Matthew has broken his neck and has died instantly. Later it is shown that Matthew has apparently suffered a skull fracture as well, as blood slowly pours down his face. The episode ends with Mary holding their son, smiling, unaware of the fatal accident of her beloved husband.
---
At their less-than-cordial first meeting, Mary snidely remarked that the idea of him being the new heir
is
a joke. Even though Mary refused to acknowledge him, and often made rude remarks about his middle-class life, he fell in love with her immediately. Eventually they got more acquainted and slowly became friends.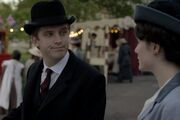 After he saved
Lady Sybil
from a riot (
Episode Six
), while Sybil was upstairs dealing with her furious parents, Mary and Matthew had their first opportunity to be alone together, over sandwiches. Mary remarked that he "must be careful not to break Sybil's heart" and that she thought Sybil "has a crush on him." Matthew replied that, "no one could accuse you (Mary) of that" meaning, of having a crush on him. Mary replied, "Oh, I don't know". This shocked Matthew by her admitting out-of-the-blue, that she had a crush, and more, on him. They finally shared a passionate kiss, and off-camera, Matthew proposed.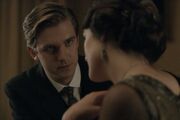 Mary told her stunned mother that she was in love with Matthew, and probably had been longer than she had admitted to herself. She took time to think it over, only because she was worried that she would have to tell him that she lost her virginity to the Turkish diplomat,
Kemal Pamuk
, who died of a heart attack in her bed, right after sleeping with Mary. Later her aunt (Mary's father's sister,
Rosamund Painswick
), reminded Mary that Matthew was only a middle-class solicitor, he was not rich or powerful at all, and said she would be bored with him. Ultimately, Mary decided to wait before giving Matthew her decision, which was further complicated by her mother's unexpected pregnancy. If the baby was a boy, then Matthew would no longer be the heir and Mary would simply be the wife of a middle-class lawyer. The delay caused Matthew to doubt her feelings and he withdrew his proposal.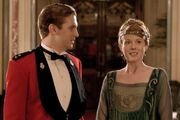 At the start of Series 2, he is engaged to a Miss
Lavinia Swire
. However, he breaks off this engagement after he is told that he can never have sexual relations or walk due to his injury. Mary, though she is also newly engaged to
Sir Richard
, becomes his primary caregiver, until Lavinia is secretly invited back to Downton by
Cora
and Sir Richard. When Lavinia trips over a footstool, Matthew steadies her without realising that he is standing up. He slowly begins to recover and they announce they are again to be married at Downton in April 1919. On the night of their announcement,
Violet
tells Matthew that Mary is still in love with him, but he knows that his loyalties lie with Lavinia, even though his love for Mary has been re-ignited, especially when she cared for him in the hospital and in his wheel chair. In the Series 2 finale, both Cora and Lavinia contract Spanish flu and must remain bed-ridden at Downton. While Lavinia recuperates, Matthew talks to Mary and suddenly apologises for breaking up with her, before they share a passionate kiss while dancing privately. However, Lavinia leaves her sick bed and comes downstairs, and sees them kissing. Lavinia later confronts Matthew while in sick bed, about not only what she saw, but what she heard him say. Her condition suddenly worsens only a short time later, and on her deathbed, she alludes to the fact that Matthew won't have to make the decision between her and Mary, as she knows she is near death. She only wishes Matthew happiness and for him to remember her fondly. Matthew is convinced that he killed Lavinia because she heard and saw what he did with Mary. He tells Mary at the graveyard that their life together is "cursed" and that it is the "end for both of them." Sir Richard helps a distraught Mary walk back to her home.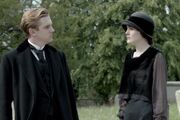 In the Christmas special, everyone heralds the start of the 1920s. Cora reveals to Robert that Mary is only marrying Sir Richard as he has threatened to expose details of her one night stand with Pamuk. Robert later talks to Mary and gives her permission to call off the engagement. Mary tells Matthew what had happened between her and Kemal Pamuk, which leaves him absolutely stunned. However, he tells Mary that he never would, and never could, despise her.
Matthew's mother Isobel urges Matthew to "fight" for Mary. Matthew later interrupts an argument between Mary and Sir Richard after Mary calls off the engagement. When Sir Richard makes another threat, Matthew literally does fight for her, by punching Richard in the face. Matthew does this after Sir Richard informs Mary and Matthew that Lavinia supposedly told him years ago that she knew Matthew was still in love with Mary, and that Lavinia was worried. Lavinia supposedly told Richard that she was just waiting for Mary and Matthew to admit it so they (Lavinia and Richard) could find true love with others. Matthew and Richard fight, breaking a very valuable vase before being stopped by Robert, with his typical classic line "stop this at once!" Sir Richard leaves Downton the following day, and Mary apologizes for using him. Later that night Matthew asks Mary if she will reconsider going to America if he asks her to stay at Downton. He then assures her that her history with Pamuk and his disastrous ending with Lavinia will never come between them in their present and future life together. Astonished and delighted, Mary accepts his formal proposal of marriage, but makes Matthew get down on his knee, something he did not do six years previously.
In the third season, Matthew is set to wed Mary, but disagreements lead to arguments for them. Mary wishes to remain living at Downton. Matthew however wishes to live further away, in a much simpler manner, knowing the future is changing and uncertain. In terms of rescuing Downton, he sees his principles and morals as having priority, which further upsets Mary to the point that Matthew does not believe she will show up at their wedding ceremony. She does, however, and they are married and go on a honeymoon in France.
Matthew forms a friendship with Tom Branson, the former chauffeur who married Lady Sybil. He asks Tom to be his best man, and he also tries to help him fit in into the Crawley family. Matthew receives word that Lavinia's father has named him his heir, but he still feels guilty about Lavinia's death so he refuses to claim his inheritance, causing friction in his relationship with his wife. When he receives a letter from the dead man, he refuses to read it, and is angry when Mary does. When the letter explains that Mr. Swire had known all that passed between his daughter and Matthew, he refuses to believe it until Mary finds evidence that Lavinia posted a letter the very day she died. Matthew then claims the money and invests it in the estate, becoming co-owner of Downton while Tom becomes the estate's agent after the original agent resigns.
Mary and Matthew finally become increasingly closer and loving after Sybil's death, but continue to struggle to conceive a child. Matthew blames himself, since he was impotent and paralyzed after being injured near the end of WWI. Cora sends Mary to a fertility doctor in London and Mary discovers the issue was on her side. She has an operation to correct it. Both Mary and Matthew secretly go to the same fertility doctor in London. Upon Matthew leaving his appointment, he finds Mary checking in. Mary tells Matthew reluctantly about her operation, and that the doctor thinks she will become pregnant soon. Mary becomes pregnant around January 1921. She gives birth three weeks early, in September 1921, and only moments after Matthew meets his son for the first time, dies in a car accident racing back to Downton Abbey to tell the entire family about their new heir.
References, notes and external links
Edit
Guide for how to make references - what is a reference, what is not a reference, code to do it, not a list of links, no wikipedia/imdb, refer to canon policy maybe?
Community content is available under
CC-BY-SA
unless otherwise noted.