A gallery of vehicles appearing in Downton Abbey listed by season and episode in which they appear.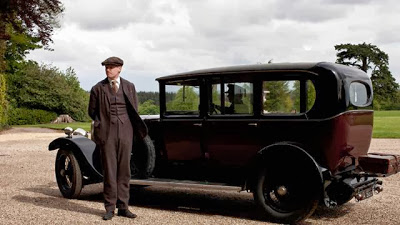 Series 1 (1912-1914) Edit
Series 2 (1916-1920) Edit
Series 3 (1920-1921) Edit
Series 4 (1922-1923) Edit
The model year of a Rolls-Royce Phantom I cannot be determined without knowing the actual pedigree of the specific vehicle, because the purchase of such a vehicle was a two step process. Rolls-Royce provided the chassis and mechanicals, then a coach builder would be engaged to supply the specific body.[24]
External links Edit
Model T Ford at wikipedia
Downton Abbey Movie Cars at Internet Movie Cars Database
References Edit
Glossary Edit
Oscar Wilde, in "The Canterville Ghost" wrote "We have really everything in common with America nowadays except, of course, language". This is particularly true of terminology related to automobiles, trains and other moving vehicles, most of which were developed well after British and American English began to diverge. Not only are different words used to refer to the same things, but to add to the confusion, the same words will refer to different things. The table below lists some of the more common differences. It generally does not include words that arose after the time of Downton Abbey, for example "Articulated Lorries" and "18 Wheelers".
British vs. North American terms

| British | American | Notes |
| --- | --- | --- |
| Bonnet | Hood | |
| Boot | Trunk | |
| Box Van | Box Car | |
| Brake Van | Caboose | A caboose is mainly a rolling cabin and office for the train crew and freight conductor, while a brake van has a functional role in the operation of the train. |
| Dickey Seat | Rumble Seat | |
| Driver (train) | Engineer | |
| Footway | Sidewalk | |
| Gear Lever | Gear Shift | |
| Goods Train | Freight Train | |
| Guard (train) | Conductor | |
| Hood | Convertible Top | |
| Livery (Locomotive) | (colour scheme) | No truly analogous term in North America |
| Locomotive / Loco | Engine | |
| Lorry | Truck | Lorry generally refers to a large truck, and in the modern context, requiring a special license to operate. |
| Low Loader | Flatbed Truck | |
| Luggage Van | Baggage Car | |
| Motorway | Expressway / Highway | |
| Nave Plate | Hub Cap | |
| Number Plate | License Plate | |
| Paraffin | Kerosene | In North America, paraffin and paraffin wax refer to the same thing. |
| Petrol | Gas / Gasoline | |
| Pram | Baby Carriage | |
| Queue | Line | Stand in Line |
| Scuttle | Cowl | |
| Railway | Railroad | |
| Roadster | Convertible | Generally one that is only available with a soft top. |
| Rowing Boat | Row Boat | |
| Verge | Shoulder (road) | |
| Wagon (train) | Car | |
| Water Trough | Track Pan | |
| Windscreen | Windshield | |